The early morning chilled air was as refreshing as discovering miles of brand new trails to explore by foot or mountain bike. My visits to the new Philip S. Miller Park have reaffirmed what originally brought me to Castle Rock last summer – a town that values its residents by providing outdoor amenities unrivaled among other Front Range communities. My initial curiosity was piqued by the sight of incline stairs rising to the park's summit. With each step I could feel my heart nearing its maximum rate. I know this is incredible for a quick after-dinner cardio. I caught my breath in one of the Adirondack chairs at the top, which is luxurious for park standards.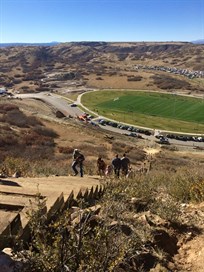 The Front Range views to the west are incredible, stretching from Pikes to Longs and all the features in between on a clear day. The park really began taking shape from my perspective at the top. I envisioned playing football and soccer on the brand new field turf below. I elected to descend on one of the trails that were professionally created just in time for the Grand Opening. On my way back to the car I took a peek inside the 'MAC'. I was greeted by kids everywhere enjoying the indoor field, trampolines and pool with waterslides. The next time I visited I knew it would be on my bike.
One of the major advantages of Castle Rock is its proximity and dedication to providing great single-track for mountain bikers. Between Ridgeline Open Space, Dawson's Butte, Hidden Mesa, and Greenland Open Space one could never grow tired of the surroundings nearby. I felt like a little kid on Christmas knowing that I would have an opportunity to incorporate another 7 miles of trails just five minutes from home. My first ride at the park was a blast. The climbing was work, but the downhill sections were fast, flowy, and even technical in some parts. I noticed poles being installed around the park to support the addition of a zip line course, this was sooner than I expected after initially hearing about it. The parks trails provided just the right amount of mileage for an after-work weekday ride for riders of all skill and experience levels.
On my way back to the car I took a peek inside the 'MAC'. I was greeted by kids everywhere enjoying the indoor field, trampolines and pool with waterslides. I was astonished at the quality and plethora of year round activities made available young and old kids at heart. The indoor pool with waterslides, lap lanes, and splash area were incredible. I could envision getting a lot of swim time in during the doldrums of winter (If you can even count our winters as harsh, lately). Refreshingly, the fees to use the pool are kept low since the facility is operated by the town, perfect for birthday parties or family events. Another perk of the amazing facility is the classes and team sports offered through the recreation department, I was ready to sign up for kickball and relive my glory years. Finally I watched people take swings in the indoor batting cages and 18-hole golf simulator. What a luxury to be able to improve one's skill in golf, baseball, or softball year round, during any weather.
UPDATE:Philip S. Miller Park Phase 2 is Now Open!
Bio: Sean is a 28 year old professional working in the Denver Tech Center. He's lived in Miami, FL, the mountains of North Carolina, downtown Denver, and now, The Meadows. He enjoys hiking, biking, cross country skiing, and exploring the state of Colorado.