The Town of Castle Rock's largest park project ever –
Philip S. Miller Park!
Philip S. Miller Park is a 270 acre park is located in the southern portion of The Meadows and has a variety of unique features. The first phase amenities opened in the fall of 2014, including a fieldhouse, indoor leisure/lap pool, an outdoor lighted athletic field, zip line course, and adventure playground.
The 7.4-mile network of single-track native surface trails and 200-step Challenge Staircase (sometimes refered to as the Castle Rock Incline) are popular with fitness buffs.
Construction of Philip S Miller Park Phase 2 began in March 2015. Included in this phase is the core plaza, amphitheater and millhouse. The core plaza will house picnic pavilions, restrooms, splashpad, plaza area, outdoor fireplace, play features and landscaping. The amphitheater and millhouse include an events pavilion, outdoor amphitheater, pond and water feature, accessible concrete trails, additional parking and landscaping.
View Plans
The Town of Castle Rock is working in phases to build the whole park over the next decade. View the master and Fieldhouse plans of Philip S. Miller Park below.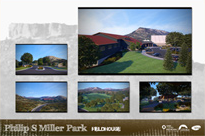 Learn more about other Castle Rock Parks here in the Meadows now.