The Meadows Community Phone App Keeps You Connected
If you're on Facebook, Twitter or Instagram, you know that The Meadows community stays well connected. Now you can stay even more connected with The Meadows Community phone app. I was recently introduced to The Meadows Community Phone App. Here's a little of what it has to offer.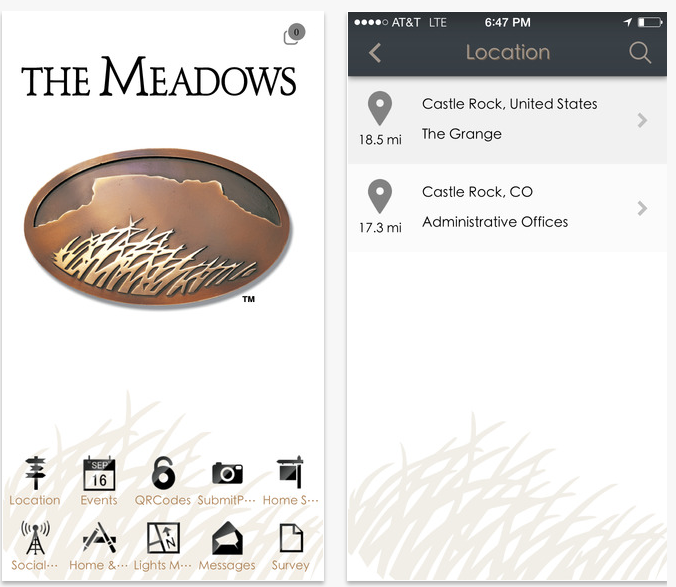 The Meadows Community Phone App Features
The Meadows Community Phone App features everything from community events to a new home search. If you live in the neighborhood than you know, there's a lot happening. Sometimes it's hard to follow, especially around the holidays. Since downloading the phone app a few weeks ago, I've gotten notifications about all of the holiday events that are happening at The Grange. It's nice because I'm the guy that's always saying, "isn't there something happening this weekend?"
The phone App also features a new home search. Click on the icon and you will link directly to The Meadows mobile new home site. With all of the construction going on, this is an excellent way for anyone searching for a new home. You can search by price, number of bedrooms, square footage. It will even search for the home on a map. You can easily find out about all of the Castle Rock home builders and their communities within The Meadows.
Home Improvement Tips
If you're a homeowner, you know there's a constant need for updates and DIY projects. The new Meadows Community Phone App has a link for you to get home improvement tips. Get interior design, paint and landscaping ideas. You should know that content is a bit scarce in this section, but I'm sure it's in the works and will be fully operational just in time for spring chores.
Social
Of course, you can access the entire Meadows Social network right from the phone app. If you're at one of the many events, snap a photo and share it directly through the phone app. The Meadows Community phone app is a simple solution that keeps you in touch with everything Meadows. See for yourself, download the Meadows Community Phone App now:
For Apple Phones: https://itunes.apple.com/us/app/the-meadows/id933272474?mt=8
For Android Phones: https://play.google.com/store/apps/details?id=com.app_meadowscr.layout