Castle Rock Transportation starts with Interstate 25 which provides easy access to Colorado's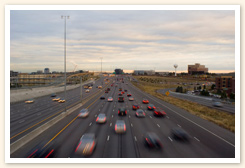 Front Range urban corridor, including links to public transit, I-70, and several state highways.
Car
8 miles to South East Business Corridor
12 miles to Denver Tech Center
30 miles to downtown Denver
40 miles to downtown Colorado Springs
Castle Rock Transportation For Transit-Dependent Residents
The Town of Castle Rock will help finance limited transportation services for Town residents who do not have access to personal transportation or who are unable to drive.  These services will be avaliable through South Suburban Taxi and the Castle Rock Senior Center.  Click here for more information about these Castle Rock transportation services.
Air
Rail
RTD Light Rail: Connect at the Lincoln Station Park & Ride for regional commuter trains.
Amtrak: Daily service from Union Station in downtown Denver.
Ski Resorts
83 miles to Loveland
102 miles to Winter Park
108 miles to Breckenridge