Castle Rock, CO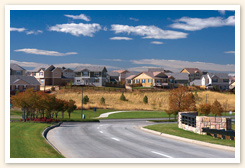 Living in The Meadows, you're never far from the Denver Tech Center, a bustling employment hub – but you're even closer to a small town way of life. The rustic brick buildings in downtown Castle Rock hint at the town's Old West roots. Today, the area offers easy parking, close-to-home dining, and quaint boutiques. There's also a farmer's market every Saturday, July through October. In the summer, check out the Douglas County Fair for cotton candy, horse shows, tractor pulls, and of course, the rodeo. The Colorado Lifestyle offers more about recreational opportunities in Castle Rock and The Meadows.
Community
Wikipedia
Hot Spots
Services
Two Town Center commercial buildings – coming soon
Located in The Meadows Professional Plaza at Dacoro Lane and Prairie Hawk Drive: Farm Bureau Insurance, Meadows Family Dentistry, Rock Canyon Foot & Ankle, Thomas Caputo- DDS, The Meadows Family Eye Care, Physical Therapy, Pediatric Denticare, Three Peaks Capital Mortgage, Prairie Hawk Orthodontics, Allstate, Hearing Life, Campbell Chiropractic, Ecoprojex, The Orchard Day Spa and Meadows Executive Suite
Along Limelight Avenue is Maverik Gas & Convenience, ANB Bank, Prairie Hawk Dental, Verizon, Natural Nails & Spa, Meadows Orthodontics, USA Cleaners, Dimension Nails & Spa,  Home Care Assistance and the AMC Movie Theater.
Located in The Meadows adjacent to the cinema: USA Cleaners and Dimension Nail and Spa
Restaurants in The Meadows
Restaurants in Castle Rock, CO
Local Douglas County Media
Castle Rock Weather
Denver, CO
With a metro population of 2.9 million, Denver is a perfect mix of urban culture and a laid-back friendly western manner. With numerous professional sports teams, world-class museums, a vibrant music scene, and nationally recognized restaurants there is never a shortage of diversions. But the town never forgets its Western roots, hosting one of the world's premiere rodeos and horse shows each January.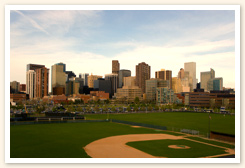 In the Lower Downtown (LoDo) district you'll find upscale art galleries, fine dining, and the city's most lively nightlife. And for all of LoDo's sophistication, this is also the historic home of Denver's brewpub culture, including the Wynkoop, Great Divide, and Breckenridge Breweries, where house-made craft beers are served with hearty, all-American food.
Today you can find several restaurants owned by celebrity chefs like Frank Bonnano, Keegan Gerhard, and Kevin Taylor. For shopping, the greatest concentrations of stylish boutiques are in LoDo and Cherry Creek North, the latter bordering the upscale Cherry Creek Mall.
Denver, CO Travel Guides:
Hot Spots
Colorado Breweries
Denver Area Restaurants & Chefs
Denver Area Media