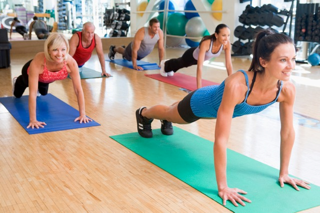 The Meadows is a very "active" community. We have easy access to miles of trails for walking, running and biking. Also, we have a quick drive to either the M.A.C. (at Phillip S Miller Park) or the Castle Rock Rec Center, but what if getting a workout in got even easier and you could do it indoors closer to home? Thanks to the new Taft House, The Meadows just got a little more active.
Take advantage of several fitness classes at The Taft House happening this fall. Get in shape joining a variety of classes ranging from Yoga to Zumba. If you missed the run down in the most recent Meadows Living, here's a bit about each class.
Yoga
Build strength, flexibility, and balance with Power Yoga. These fast-paced, intense yoga fitness classes blends breath-linked movement to improve coordination, balance, range of motion and flexibility. It is a great workout for everyone regardless of your fitness level. The professional fitness instructor will adjust the workout to fit you. You must register one week before each month's session begins.
MixxedFit
If you like to dance and love boot camp training, then these fitness classes are for you!  Explosive dance moves blended with boot camp-inspired exercises make your workout more efficient and challenging. You will sweat to a soundtrack of your favorite hits on the radio or in a nightclub.
Zumba Toning
If you're passionate about Zumba or are new to the craze, this variation of one of the most popular fitness classes will have you in shape, and in love with your workout routine. Zumba Toning introduces light weights or "Zumba Sticks" and exercises that target specific muscle groups to help keep your muscles engaged. You will have fun, get a workout and have a toned body.
Body Weight Boot Camp
If you think you need a lot of various weights, bands, and other contraptions to get a good workout in a fitness class — think again. Your bodyweight can be the only tool you need. Body Weight Boot Camp will show you how to use your own body weight to burn calories, get rid of fat and increase strength, endurance, and agility. Have fun and get in shape under the guidance of an ACE Certified Fitness Instructor and Meadows Resident Susan Thayer.
What are you waiting for? Get in shape this fall here in The Meadows. Register for the month in advance. Each monthly fitness class is just $40 for Meadows residents and $45 for Non-residents. Learn more and register online at meadowslink.com or call The Grange at 303-814-2358 or The Taft House 720-476-4006.