Saturday, October 8th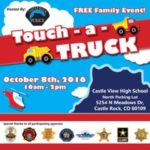 As a father of three, I have seen and played with my fair share of toy cars and trucks. When they were younger they would watch in awe as a fire truck or ambulance raced down the road. My seven-year-old still gets excited when he sees the big tractors digging their way to a new neighborhood or a plow truck pushes snow in the winter. Heck, even I still catch myself watching the big machines work. I guess I'm just a big kid. Well, big kids and little kids alike will get a kick out of the Touch A Truck event happening Saturday, October 8th at Castle View High School.
Cars, Trucks, Choppers and More
The Touch A Truck event will be a ton of fun for kids of all ages as they can get up close and personal with the giant vehicles that amaze us all. Kids can hop in and sit the driver's seat and explore city plow trucks, fire trucks, police cars, various military vehicles and more. They can visit with the drivers to learn how each vehicle works and how it helps our Castle Rock community.
Get to Know our Local Safety Officers
In addition to checking out some really cool vehicles, the Touch A Truck event is also a great chance to meet some really cool people in our community. "This is a great opportunity for our public safety personnel to connect with members of our community," said Police Chief Jack Cauley. "We are looking forward to working with our partners to give families a unique experience with these impressive vehicles."
Families can enjoy and learn from unique and exciting demonstrations that will happen throughout the day.
Surprise for The Kids
As if the big trucks, police cars, and helicopters are not enough, your kids will be blown away at this years Touch A Truck event when Mater from the CARS movie and the Batmobile Monster Truck show up. Plus, car race fans can get up close and personal with The Furniture Row Sprint Cup Car.
You can also enjoy music and tasty treats from local food trucks. Mark the Touch a Truck event on your Calendar, Saturday, October 8th from 10 am – 2 pm at Castle View High School. Learn more about this fun event here.