Register for Tri The Rock 2023
Do you have a future Olympian? Even if they're not destined for the Olympics, if your child loves running, swimming, and biking, the annual Tri The Rock Triathlon is the perfect place to exercise, compete and have fun. This year's triathlon is back at Butterfield  Crossing Park on Sunday, September 10th.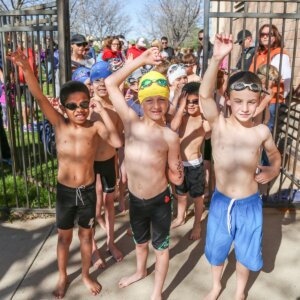 Kids from 5-18 Can Compete
Youth athletes of all abilities can compete in this annual tradition. They will run laps, ride bikes, and swim laps in the newly renovated Butterfield Park. Your child will participate in their respective age groups with distances that are age appropriate.
Age Groups Include:
Ages 5 to 6: 20-meter swim (one pool length), 1-kilometer bike ride (one lap around the park), and a 500-meter run
Ages 7 to 10: 50-meter swim (two pool lengths, down and back one time), 4-kilometer bike ride, and a 1-kilometer run
Ages 11 to 14: 100-meter swim (four pool lengths, down and back two times), 8-kilometer bike ride, and a 2-kilometer run
Ages 15 to 18: 200-meter swim (eight pool lengths, down and back four times), 16-kilometer bike ride, and 3-mile run
Each age group will race at different times, beginning with the 15-18-year-olds and ending with 5-6 around 10:45.
Register By September 5th
Registration is now open and goes until Tuesday, September 5th. Register your child here for this fun event. The cost is $70. Your child will get a cool t-shirt, goody bag, and post-race meal.
Get Some Race Prep
If this is your first time participating in the event, you and your child can prep by attending a special free informational meeting on Sunday, September 3rd, at Butterfield Crossing Park. This informational meeting will help your kids understand what to expect. Athletes 7-18 will attend the 1 pm session, and younger kids (5-6) can participate at 1:45. Space is limited, so you must register in advance.
Castle Rock is an athletic community with race events happening throughout the year for all ages. Tri the Rock is one of the biggest and most fun events. Join the annual youth triathlon on Sunday, September 10th. Learn more here.