Don't Miss The Butterfield Crossing Park Grand Reopening Celebration
We've all seen the fences up around the neighborhood's beloved Butterfield Crossing Park. Well, it's time for them to come down! The town is set to reveal the all-new redesigned Butterfield Crossing Park in a super way on Friday, June 9th. 
New. Improved. Fully Inclusive.
One of the biggest initiatives for this project was to create an environment where everyone can play, be challenged, and, most of all, have fun and learn. One of the main features of the reinvented Butterfield is a fully-inclusive playground. The new playground is a safe place for kids of all ages and abilities to enjoy their time. Some features include a sensory wall, roller table, pulse tennis table, and we-go swing. Take a look at all of the fun features here.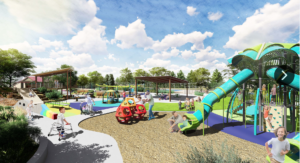 New Courts, Trails, and More
In addition to the playground, you can enjoy new basketball courts, pickleball courts, an outdoor fitness center, newly enhanced shaded gathering areas, walking trails, and trail access. It promises to be an entirely new experience for those who have enjoyed this park over the last 30 years. 
It's A Super Grand Reopening 
A super park deserves a superhero grand reopening. Bring your entire family to Butterfield Park on Friday, June 9th, from 5-8 pm for a fun night to celebrate this incredible new park. Watch the ceremonial ribbon cutting. Then, let the fun begin. Dress up the family as your favorite superheroes. Your kids will even have a chance to meet their favorite superheroes Batman, Captain America, and Wonder Woman. Get your face painted and take your picture in a photo booth. Food Trucks will provide your superheroes with some delicious bites. 
It promises to be a fun night! Don't miss the grand reopening celebration of Butterfield Crossing Park on Friday, June 9th, from 5 – 8 pm. Parking at Butterfield will be designated ADA-accessible only for the event. Feel free to walk or bike, if you have to drive, you can park at Castleview High School, and the Trolley will shuttle you to the park. This all-inclusive evening promises to be fantastic! Learn more about the park's new design on the town's new website.