The Grange Pool Bash 2020 – Canceled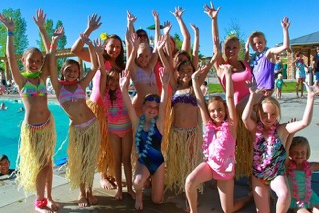 Summer in The Meadows Starts with the Pool Bash at The Grange!
Who is ready for summer? I feel like the entire neighborhood simultaneously raised your hands. It's been a tough few weeks. So, I wanted to share a post about an event that I honestly hope can happen in June. It's the annual Pool Bash at The Grange. We all NEED a reason for a bash.
There's only one way the neighborhood knows how to kick off summer, and that's with a gigantic Grange Pool Bash!
UPDATE – EVENT Postponed – Check Back for Details
Stop by The Grange and officially kick off pool season at the huge pool bash. This event will allow you and your kids to catch up with friends under the sun while listening to music from a live DJ.
The kids can play games and have fun with many other activities and to top it off they can snack on free ice cream.
In June, it will be a few months since your kids have seen many of their friends other than on a screen. They'll want to splash around and socialize with the friends they've missed.
The event is completely free but is only open to MNC residents and MCA residents who have a pool pass.
Pencil in The Grange Pool Bash on your calendar.  Check out your latest Meadows Living for more information.
Now, I have to be real. We all HOPE we can hang out together, but of course, we all have to be careful with COVID-19 and abide by CDC and government social distancing recommendations. This event may be canceled or revised. It all depends on how things are in June. Keep an eye on The Meadows Facebook page for updates. Stay safe and stay home so that we can get back to our normal lifestyle here in The Meadows.