7th Annual Touch-A-Truck Event on Saturday, August 19
As a kid, you can't help but be in awe of fire trucks, ambulances, and oversized equipment. My three boys would stop everything when they heard a siren to see if they could catch a fire truck zooming by or watch a helicopter flying over. Heck, even I still catch myself watching the big machines work. I guess I'm just a big kid. Big and little kids alike will have the chance to get a hands-on experience with their favorite big trucks at the seventh annual Touch-A-Truck event on August 19. This year's event is moving full steam ahead at the Douglas County Fairgrounds.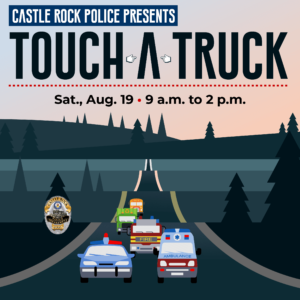 Cars, Trucks, Choppers and More
The Touch-A-Truck event will be a ton of fun for kids of all ages as they can get up close and personal with the giant vehicles that amaze us all. Kids can hop in the driver's seat and explore city plow trucks, fire trucks, police cars, military vehicles, and more. They can visit with the drivers to learn how each vehicle works and how it helps our Castle Rock community.
Get to Know our Local Safety Officers
In addition to checking out some really cool vehicles, the Touch-A-Truck event is also a great chance to meet some awesome people in our community. "This is a great opportunity for our public safety personnel to connect with members of our community," said Police Chief Jack Cauley. "We are looking forward to working with our partners to give families a unique experience with these impressive vehicles."
Families can enjoy and learn from unique and exciting demonstrations that will happen throughout the day.
"We are now in our seventh year, and the Touch-A-Truck event continues to evolve and grow," Police Commander Mark Galvan said. "We're excited to bring back some fan-favorite trucks and also welcome some new vehicles for families to explore. It's a great opportunity to learn about each of them and the role they play in our community."
No Horn Hour
If you are concerned about the noise from various horns and engines, The Castle Rock Police Department has committed to a "No Horn" period from 9 AM – 10 AM for those sensitive to loud noises.
Local food trucks will be on hand to satisfy your appetite. You and your kids will love climbing in and out of the trucks, meeting the service men and women, and honking the horns. Mark your calendars for the seventh annual Touch-A-Truck event Saturday, August 19, from 9 AM – 2 PM at The Douglas County Fairgrounds. Learn more about this fun event here.