Castle Rock WineFest is Back in 2021
The 17th Annual Castle Rock WineFest
Did you miss WineFest last year? You're not alone. I was crushed when COVID ruined our wine tasting shenanigans. This year it's back and better than ever, you can taste over 180 varieties of wine from over two dozen Colorado wineries.
One of my favorite things about Castle Rock WineFest is that I've tasted wines that I didn't even know were possible to make. It seems like every year there's a new winery that comes up with something very unique and I end up with a new favorite wine.
I'm a novice when it comes to wine (I just like to drink them), but it's fun to talk to the different winemakers to learn about the processes it takes and the different techniques they use to make the various wines.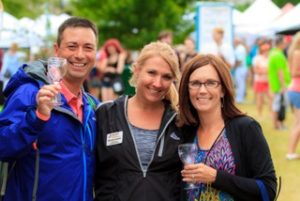 Back at Butterfield Park in 2021
Butterfield Crossing Park will host WineFest once again and it's the perfect venue! Located at 3952 Butterfield Crossing Drive Castle Rock, CO 80109, WineFest will be on Saturday, July 17 from 2-8 pm.
Parking
You are allowed to park in the Butterfield Parking Lot, and surrounding streets, but those will fill up fast. As a pro-tip and to help ease congestion, park at The Outlets at Castle Rock in the North lot by the Nike Outlet. Bring your ID and you can get a free shuttle ride to Butterfield Park. The shuttle will run from 1:30-9 PM. 
A Beer Garden at WineFest?
If you prefer suds over wine, you can cool off with a beer in the beer garden sponsored by the local brewery, Burly Brewing. 
Great Music, Contests, and Demonstrations
And because you must have incredible food with your wine, you can experience cooking/wine demonstrations as well as food from a variety of your favorite food trucks.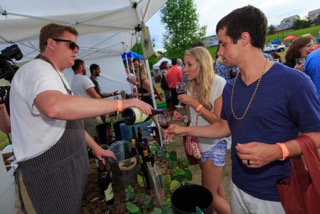 After you have had plenty of samplings and maybe feeling relaxed — just saying — it happens; you might want to chill and listen to a little live music. And what's a festival without great music? You can dance the afternoon and evening away while sipping with great live music from Brian Raine and Grayson Little. 
A Safe Ride Home
Local Lyft and Uber drivers are notified about the event. Contact your driver ahead of time to shorten your wait time.
It really is a highlight of the summer for my wife and me. When we first moved here, we thought we would just check it out, and now, it's become a tradition. We've even started inviting friends and family to join in on the fun.
After a busy start to summer, it's the perfect time for us to enjoy an adult afternoon with friends and neighbors. Keep in mind that the event is 21 and older so find a sitter or send the little ones off to grandma and grandpa. 
Visit the 17th Annual Castle Rock WineFest website to get tickets and more event information.  Get your tickets before Saturday, July 14th when the prices go up to full price at the door. Join the fun at one of the best events in Douglas County at Butterfield Crossing Park. I hope to see you there!