Don't Miss The 2022 Castle Rock WineFest
The 18th Annual Castle Rock WineFest
Who doesn't love spending a warm summer day amongst neighbors and friends enjoying a beverage or two? The 18th annual Castle Rock WineFest is the perfect excuse to gather your group and enjoy an afternoon in The Meadows sampling Colorado's finest wines. You won't taste just one or two; you can taste 180 different wines from two dozen Colorado wineries. 
One of my favorite things about Castle Rock WineFest is every year, I taste a wine that I didn't even know was possible to make. Every year, a new winery comes up with something very unique, and I end up with my new favorite wine.
I'm certainly not a wine expert, I just like to drink them, but it's fun to talk to the different winemakers to learn about the processes it takes and the other techniques they use to make the various wines.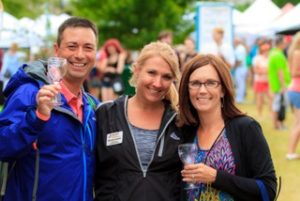 New Location for 2022! WineFest at Bison Park
As you've probably noticed, Butterfield Crossing Park is under a huge remodel, so this year's WineFest has moved to another favorite park, Bison Park at 1390 Clear Sky Way, Castle Rock, CO 80109. WineFest will be on Saturday, July 16, from 2-8 pm.
Parking
You can park in the parking lot at Bison Park and surrounding streets, but those will fill up fast. As a pro-tip to help ease congestion, park in the Upper Lot at The Douglas County Fairgrounds and take the FREE Shuttle to Bison Park. The shuttle will run continuously from 1:00 PM-9 PM.
Great Music, Contests, and Demonstrations
And because you must have incredible food with your wine, you can experience cooking/wine demonstrations as well as food from a variety of your favorite food trucks.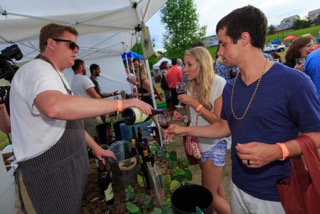 After you have had plenty of samplings and maybe feeling relaxed — just saying — it happens; you might want to chill and listen to a little live music. And what's a festival without great music? You can dance the afternoon and evening away while sipping to great live music from Grey Madderz and Dance X.
A Safe Ride Home
Local Lyft and Uber drivers know about the event. Contact your driver ahead of time to shorten your wait time.
It really is a highlight of the summer for my wife and me. We thought we would just check it out when we first moved here, and now, it's become a tradition. We've even started inviting friends and family to join in on the fun.
After a busy start to summer, it's the perfect time for us to enjoy an adult afternoon with friends and neighbors. Remember that the event is for 21 and older, so find a sitter or send the little ones off to grandma and grandpa.
Visit the 18th Annual Castle Rock WineFest website to get tickets and more event information. Get your tickets early. Join the fun at one of the best events in Douglas County at Bison Park. I hope to see you there!