If You Haven't Heard—We're Getting a New Pool!
One of the many highlights of living in The Meadows are the pools, specifically The Grange pool. My boys and I spend many summer afternoons hanging at The Grange. The problem is, so does everyone else. If you frequented the pool last year —you know what I'm talking about. I understand it's part of living in a growing community and I like meeting friends. But things are just a bit cramped in the current pools at The Grange. Judging by an article I read in the latest issue of Meadows Living our Newsletter, I'm not the only one that's feeling a bit cramped. I'm excited to say that our pool claustrophobia will soon be over!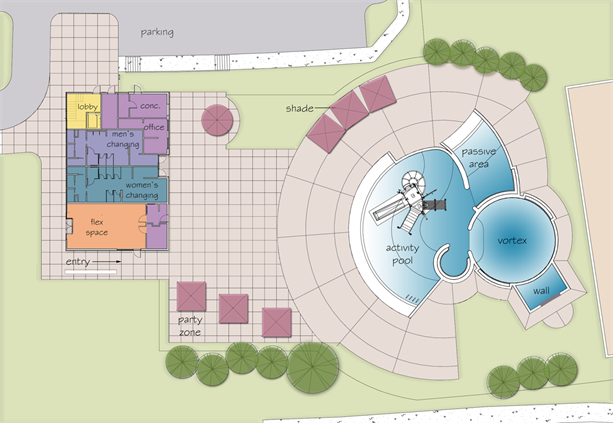 Graphic is for illustrative purposes only
Climbing Wall, Bubble Pits, Oh Yeah!
The Meadows Neighborhood Company will be building a new pool facility here in The Meadows. The new pool will feature a lot of different amenities that will make it a unique experience. Included will be a 30 foot wide vortex pool, 15 foot climbing wall, play structure, bubble pit and more. There will be sand a sand volleyball court as well. Included in the space will be a party pavilion that will be perfect for summer birthday parties.
Also included with the pool facility will be a new building complete with snack bar, restrooms, changing rooms and lifeguard office. The second floor will be designed for new neighborhood administrative offices.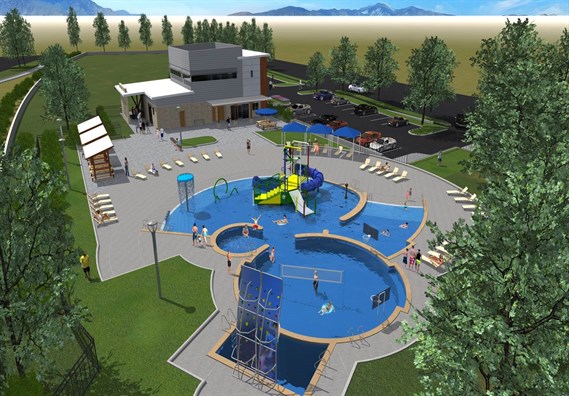 Graphic is for illustrative purposes only
Mark Your Calendar
This new facility will be ready to go on Memorial Day 2016. It'll be located in the Town Center on the corner of Meadows Boulevard and Elegant Street.
There's one more major detail that's been left up to us Meadows residents. A name! The neighborhood company wants residents to name the new amenity. Put on your creative cap and submit your ideas to The Grange or you can email them to jreinhardt@meadowslink.com. If you want to learn more about the new facility, you can attend an Open House on May 13th.