Meet Castle Rock PD During National Night Out 2023
Have you ever wondered why the police respond to situations differently? Or why do they use different equipment for different scenarios? National Night Out is one of the best opportunities to meet with officers and ask questions. Your kids will be awed as they check out cool equipment and watch demonstrations. The annual event is your chance to check it out. Mark your calendar for Tuesday, August 1st, at Philip S. Miller Park from 5 – 8 pm.
The night will have plenty of fun activities for the whole family. Your kids can collect free CRPD swag and more.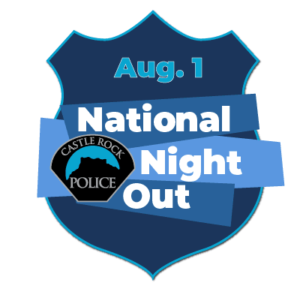 Officers will trade their police hats and vests for chef's hats and aprons. They will be manning the grills and cooking free hot dogs and hamburgers for you and your family.
National Night Out is fun for your family, but it's also fun for the officers. Take it from Chief Jack Cauley, "This is such a special evening, and we're so happy we can bring it back this year. We love that this event gives citizens a glimpse into what our officers and staff members do on a daily basis."
This countrywide campaign helps foster relationships between police departments and their communities. It's truly a wonderful celebration.
If you're looking for a fun way for you and your children to meet the heroes who keep us safe, don't miss National Night Out! It happens Tuesday, August 1st, from 5 – 8 pm at Philip S. Miller Park.