Music in The Meadows 2020 at Butterfield Park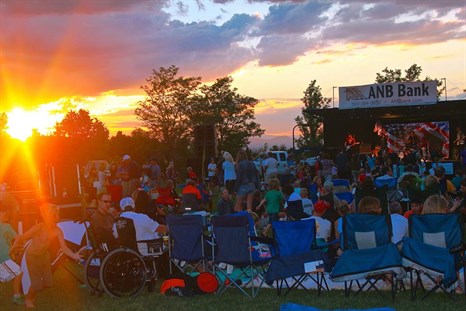 COVID – 19 UPDATE
Please note, concerts may be postponed due to COVID – 19. The MNC will make a decision one week before each concert. Please check back here for updates.
Music in The Meadows 2020
Hot summer nights, good friends and great music. How do you beat that?
You can't.
Let's all hope that we can enjoy one of the best parts of summer in The Meadows. We can all use a fun summer night of live music. Obviously, with COVID-19 everything is up in the air, but I wanted to share what could tentatively be this summer's lineup for Music in The Meadows at Butterfield Park.
As a music lover, I can't wait for the Thursday nights where we can pack dinner, a blanket and walk over to Butterfield Park and find our spot on the grass and watch the sunset with some great music.
So, what can we expect this year?
This year's lineup is all new and won't let you down. From great cover bands to original artists, country, rock, blues and pop, you can expect a wide variety of bands – guaranteed to have something for everyone. The fun begins on Thursday, June 11th!
Music in The Meadows 2020 Lineup:
John Saunders Band
Thursday, June 11th,  6:30 PM – 8:30 PM
JSB is a local favorite in Castle Rock. If you haven't heard the John Saunders Band, they specialize in a special sound called "The Colorado Groove." Their set consists of a blend of original tunes with many of your favorites from artists like Big Head Todd and The Monsters, Ryan Adams, Pat Green, Jack Johnson among many more.
TITONIC
Thursday, June 25th, 6:30 PM – 8:30 PM
Get ready to get your funk on with Titonic. Their eight-piece Funk/Soul/R&B complete with horns will have you dancing the night away. They spice things up with songs from Aretha Franklin, Stevie Wonder, Tower of Power just to name a few.
The Country Music Project
Thursday, July 9th, 6:30 PM – 8:30 PM
Odds are if you love live country music, you've probably seen these guys at some of the most famous venues throughout the state. The Country Music Project will cover classic country hits from the likes of Merle Haggard, George Jones, Tammy Wynette, and many others. Don't like the classics? They've got you covered with new hits from The Band Perry, Miranda Lambert, Lady Antebellum, and Dierks Bentley just to name a few.
Ronnie Raygun and the Big Eighties
Thursday, July 23rd, 6:30 PM – 8:30 PM
Who doesn't love '80s music? Put on your eyeliner and bring back the big hair and dance just as fast as you can with Colorado's original eighties tribute band. They'll play all of your favorite hits from the big eighties.
If you're following these blog posts, you've probably noticed a theme — community – and of course how much I love living here.  Music in The Meadows is a great example of how The Meadows master planned community brings the community together.  You get more than music at these events: enjoy food trucks, giveaways and games.
Visit meadowslink.com to get all of the info you need about Music in The Meadows 2020.  Stay tuned to The Meadows Facebook page for updates on all the events planned for the summer. Let's hope that as time passes, we can get through this pandemic and enjoy one of the community's favorite events. For now, let's all stay safer at home.