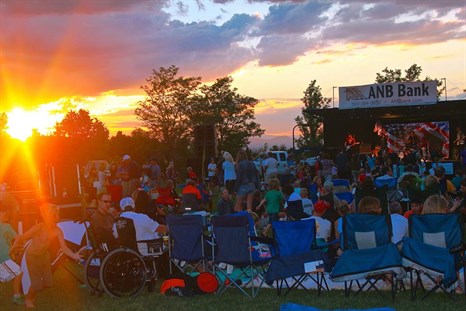 Hot summer nights, good friends and great music. How do you beat that?
You can't.
The Music in The Meadows concert series is back for another epic summer! It's one of my favorite things about summer here.  Hundreds of neighbors and friends throughout the community gather at Butterfield Park for great live music.
As a music lover, I can't wait for the Thursday nights where we can pack dinner, a blanket and walk over to Butterfield Park and find our spot on the grass and watch the sunset with some great music.
So, what can we expect this year?
This year's lineup is all new and won't let you down. From great cover bands to original artists, country, rock, blues and pop, you can expect a wide variety of bands – guaranteed to have something for everyone. The fun begins on Thursday, June 13!
Music in The Meadows 2019 Lineup:
Richie Law Band
Thursday, June 13th,  6:30 PM – 8:30 PM
Since his days on Season 11 of American Idol, Richie Law has traveled the country and shared the stage with some of the biggest acts in country music. He's played alongside Darius Rucker, Jewel, Josh Turner and many more. This summer, he'll bring a little country to Music in The Meadows.
The Margarita Brothers
Thursday, June 27, 6:30 PM – 8:30 PM
Get out your lost shaker of salt and get in tune with summer. The Margarita Brothers are going to bring the fun to the stage playing all of your summer favorites from Jimmy Buffet, The Beach Boys and more.
Little Moses Jones
Thursday, July 11, 6:30 PM – 8:30 PM
When Little Moses Jones Band takes the stage this summer, you won't be sitting on your blanket for long. Their high energy performances have audiences dancing through all of their covers from your favorite bands throughout the decades.
New Sensation
Thursday, July 25th, 6:30 PM – 8:30 PM
Who doesn't love '80s music? If you need a fix, New Sensation will fulfill your desire. They'll cover all of the hits from your favorite bands from the video era like INXS, Journey, Van Halen, Bon Jovi, Men at Work, Prince and a whole lot more. Don't miss this radical eighties party.
A Note on Parking
If you've been around the neighborhood for the summer, you know that parking can be a bit tight. Most people park in and around the neighborhood streets and walk to Butterfield. There's also parking at the Butterfield lot, but that fills up fast so feel free to park at Meadow View Elementary.  You can also park at The Grange and ride the free shuttle that will run on concert nights from 6-9pm.
If you're following these blog posts, you've probably noticed a theme — community – and of course how much I love living here.  Music in The Meadows is a great example of how The Meadows master planned community brings the community together.  You get more than music at these events: enjoy food trucks, giveaways and games. Visit meadowslink.com to get all of the info you need about Music in The Meadows 2019.