Carriage Houses from Oakwood Homes in Castle Rock, CO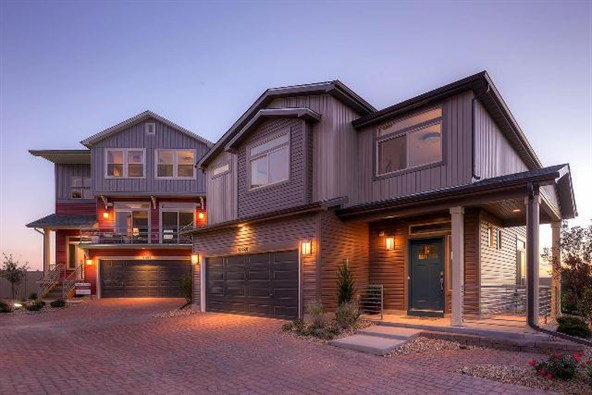 At Oakwood Homes in Castle Rock, CO we believe everyone deserves luxury, regardless of budget. Our mission is to create luxury homes that are accessible and customizable at every budget – for Colorado home buyers in every stage of life. Our Carriage Houses in The Meadows in Castle Rock, CO is living proof of this! These Carriage Houses feature two and three story homes personalized with all of the luxury items associated with Oakwood Homes; cooking grottos, eat-in islands, spa-like bathrooms, high ceilings, flex spaces and Oakwood Homes SmartSpace design.
Oakwood Homes modern and contemporary styling of these Carriage Houses is a great compliment to the new architecture in the town center shops and our location to the town center and access to the new highway overpass connection make this neighborhood one of the most popular communities in Castle Rock, CO. With snow removal included on the pavestone driveways, this is also a great fit for all kinds of buyers looking for a single family home with minimal maintenance living without having to pay the much higher HOA's found in townhome and condo communities. These Carriage Houses from Oakwood Homes in Castle Rock, CO are perfectly located within minutes of all Castle Rock's best amenities, the Outlets, miles of hiking and biking trails, and the Cultural Arts Center; but is also just a short drive to the heart of downtown Denver.
This community also holds an important place in Oakwood Homes' heart as all of the home options have been named after and dedicated to six very special people from St. Jude Children's Research Hospital. These new Carriage House floorplans represent past and present St. Jude patients, including Colorado's own Tyler Pilon, as well as the founder's daughter, Marlo Thomas.
Originally starting with 137 lots, this collection of Carriage Houses from Oakwood Homes in Castle Rock, CO sold quickly! These Carriage Houses are now available for resale.
View all new home models in The Meadows