Who was Philip S. Miller? A Brief History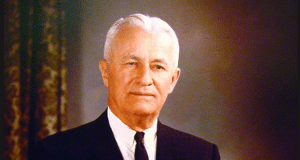 When it comes to well-known names in Castle Rock, CO, perhaps there's none more prevalent than Philip S. Miller. You may know the name from Philip S. Miller Park or the Philip S. Miller Library, but do you know why he is so important to our town?
It Started in a Meat Market
Miller's father was a butcher in Denver and later in Elizabeth. As many sons did at the time, Philip S. Miller followed in his father's footsteps becoming a butcher himself. Miller worked with his father and helped to expand the business, opening shops in Kiowa and here in Castle Rock. After parting ways with his business partners, Miller and his new wife, Jerry Stewart, moved to Castle Rock to manage their butcher shop.  They later changed the name of the shop to the Castle Rock Meat Market.  It's location is now part of the B and B Café.
Philip S. Miller's Legacy
Miller etched his legacy in Castle Rock, CO as a member of the Board of Trustees where he was a key player in implementing a sewer system and municipal electricity system for the town. Due to the Depression, Castle Rock did not have a bank for several years so when the opportunity arose, Miller opened The Bank of Douglas County, the town's first local bank. This made loans available to local business and allowed the community to flourish.  The Miller's also purchased an insurance business and a cattle ranch, which added to their financial holdings, and of which they were quite charitable. His generosity showed no bounds when he donated the water rights of 204 acres of his ranch to the town, providing nearly 100 million gallons of water to Castle Rock. The Miller's trust continues their charitable legacy to this day with donations of its income to the city and county, Denver Children's Hospital and the Shriner's Hospital.
From the meat market to helping build an electric system and for the water and facilities we use, Philip S. Miller still plays a crucial role in the Town of Castle Rock and its future.