Fill a Backpack For Kids: Support The Meadows School Supply Drive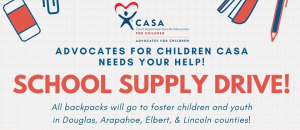 As we approach the middle of July, it's hard to think about back-to-school, but before we know it, the supply lists will arrive in our inboxes, and school shopping season will begin. The Meadows Community is helping families with school supplies this year and teaming up with Advocates for Children CASA, a local non-profit, to help children and families in need. 
Advocates for Children CASA
Advocates for Children is a non-profit with a network of 18 programs throughout the state. These programs provide various services for families and children of all ethnicities in metro and rural areas throughout the state. Your school donations will be helping kids in Douglas, Arapahoe, Elbert, and Lincoln counties. Learn more about CASA here. 
Donate a Backpack
You can help by purchasing a new backpack and filling it with essential school supplies like #2 pencils, pens, notebooks, highlighters, paper, and more. Find the complete list and other items needed on meadowslink.com. 
Deliver Your Backpacks
After you fill your backpacks, please bring them to The Grange or The Taft House before July 29. You can also drop your backpacks off at the year's final two Music in The Meadows concerts. On Thursday, July 14, you can catch local favorites, The John Saunders Band. The last show of the summer will be on Thursday, July 28, featuring, Finaleye (80's Band). Great music and a wonderful cause. Does it get any better? 
Help out a great cause and support kids this summer. Help fill a backpack for The Meadows School Supply Drive. Learn more about this incredible event that helps local kids get the supplies they need to have a successful school year here.