The Meaning of Community – Tyler Park
What does the word community really mean? Is it simply houses, parks and trails? Or does it mean something different – deeper? Tyler Park, a new community in The Meadows, offers new meaning to community. Before ground was even broken, it had a special significance.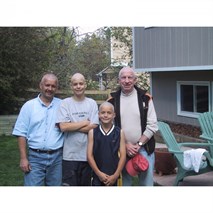 In partnership with Oakwood Homes, the new Tyler Park community will be built in honor of Tyler Pilon. Tyler, a local Coloradan, was diagnosed with Ewing's Sarcoma, a type of bone cancer, at the age of 12. Sadly, Tyler lost his brave 3-year battle on December 11, 2005. Read his story here: http://www.stbaldricks.org/kids/mypage/3151
Since 2011, The Meadows has developed a great tradition with St. Jude Research Hospital. Raising millions through the annual St. Jude Dream Home Giveaway to help cancer research. Oakwood Homes has been the Dream Homebuilder for the last two years. This year they are doing more than just building homes, they're dedicating an entire neighborhood to the brave patients of St. Jude. In addition to the neighborhood being named after Tyler, various home options will be named in honor of other St. Jude patients including; Taylin, Tyler, Aubrey, Kaden, and Reagan. One plan will even be named Marlo, dedicated to Danny Thomas, Founder of St. Jude and his daughter Marlo Thomas. Find out more about Oakwood Homes and this incredible neighborhood here: Tyler-Park
So, when I ask what does the word community mean; there's a lot more than houses, sidewalks, parks and trails. There's a deeper meaning. It's about hope, caring and helping each other.  It's about coming together; building an entire community to honor the brave children that have fought and are fighting an unimaginable battle. It's Tyler Park in The Meadows.