Wacky Wednesdays: Fun for Kids, A Break for You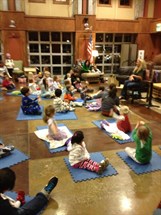 There is an array of classes at The Grange here in The Meadows.  There's everything from cooking classes to an optimist club, heck, you can even learn to play guitar in a day. But there's one class this summer that's winning over both parents and kids.  Wacky Wednesdays! Every Wednesday throughout June and July parents can drop their kids off at The Grange for a couple of hours of fun, entertainment and learning.  And parents get a well-deserved break!
Wacky FUN!
Each week a different theme will keep the kids entertained. In addition to education, kids will enjoy some truly "Wacky" days. Like Despicable Me 2 day.  Kids will learn to dance to "Happy," watch the movie and enjoy popcorn.  In the weeks to come, kids will have a blast with a variety of themes including: Local Hero Day, Games Kids Play Day, Party in The USA and more. Along with great activities, Wacky Wednesday gives your kids a chance to meet other kids throughout the neighborhood and to connect with other friends from school.
Face it: You Could Use a Break
As a relatively new stay at home dad, I get it. You need a break. You love your kids, but summer can be long. Why not take advantage? Take a couple of hours to run errands, clean the house, or actually just take a break without hearing, "Dad, Dad, Dad" or "Mom, Mom, Mom." Wacky Wednesdays is an affordable way to take two hours for yourself. You can't beat the cost, just $10/Wednesday or $90 if you sign up for the whole summer. Drop your kids off at a safe location and they'll have a blast giving you the chance to take a breather.
Click here to learn more about each theme and register your child.