Pumpkinfest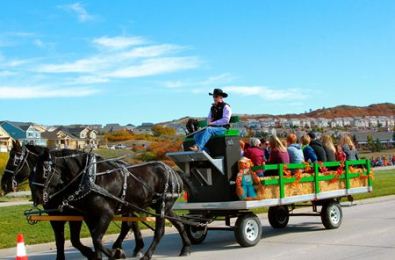 A Celebration of Fall
I know it's 90 degrees and fall seems lightyears away, but it won't be long before the temperatures drop, and the leaves change color and fall to the ground. The neighborhood will be busy, neighbors raking leaves and children laughing jumping in piles of leaves as the master-planned community goes about their fall clean up. These along with Pumpkin Spice everything are all indicators that the fall season has arrived there is one tradition in The Meadows that signifies the true arrival and celebration of the fall season and that is PumpkinFest at the Grange on Saturday, October 19th from 1 to 4 PM.
PumpkinFest is Fun for the Whole Family
What's a PumpkinFest without a hayride? A classic for any fall festival, and at this event it's one of the most popular activities. You can load your family into the wagon and enjoy the fall colors along Meadows Boulevard.
Kids can enjoy plenty of fun activities like arts and crafts, inflatable rides and a trackless train. Kids can bring sacks as they can even go trick or treating at the sponsor booths. Each resident will also get to venture into the pumpkin patch and pick out a free pumpkin! Additional pumpkins and pumpkins for non-residents are just $5 (cash only). Remember to bring your key fob to get your pumpkin.
You must sign a waiver so that your kids can enjoy the inflatables. Booths will be onsite during PumpkinFest to fill out your waiver. You can skip the lines and stop by The Grange from October 14-18 to fill out your waiver and get your wristbands.
One of the best parts of PumpkinFest is the costume parade! Play paparazzi as all of the kids, adults, and pets are dressed in their Halloween costumes and parade around the festival. This year's parade kicks off at 1:15. This is all topped off with great music and concessions.
I'm not sure if PumpkinFest reminds me of the festivals in the small town where I grew up or if it is the excitement of the fall season, but I love this event. It is loads of fun and a great way to meet new neighbors! Don't miss PumpkinFest 2018 at The Grange on Saturday, October 19th from 1 – 4 PM behind The Grange. Learn more about one of the most popular events in The Meadows on Meadows Link.