3 Castle Rock Golf Courses Centrally Located at The Meadows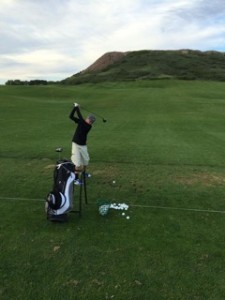 Dust Off The Clubs: Golf Season in The Meadows is here!
It's been a warm February, and I cannot help but think about swinging a golf club. (I actually played hooky and snuck in a round of golf last week.) My golf addiction is somewhat draining on my budget, but I can't help myself, I've been playing this godforsaken game since I was a little kid. And now, I've sucked my wife into playing, and my kids play too, my oldest plays on the Castle View Golf Team. Golf is a family affair! It's a good thing that The Meadows is centrally located to 3 Castle Rock golf courses for some convenient, prime golfing!
Red Hawk Ridge Golf Course
I consider Red Hawk Ridge my home golf course; it's less than 10 minutes from my house here in The Meadows. The atmosphere is great, and the conditions are always incredible. I love the variety of risk and reward that this Castle Rock golf course presents. Despite playing a lot, I am still a high handicapper and inconsistent in all aspects of my game. There are plenty of opportunities to go for the gusto and "let the big dog eat," there are also plenty of bunkers and water that will have that dog choking. They have excellent programs, and instructional leagues for kids and the staff is very friendly. Learn more about the Red Hawk Ridge Golf Course here.
Plum Creek Golf Club
Plum Creek Golf Clubs is another Castle Rock golf course that's a gem and has had its ups and downs, but is on the rise again. Located just south of Plum Creek Parkway, Plum Creek Golf Club is a TPC golf course designed by Pete Dye and opened in 1984. Golf lovers will understand the greatness that comes with that distinction. Legends have played there, and future legends play now. After some rough patches over the years, the Castle Rock golf course opened last year and is under new management who also owns Bear Dance, another favorite golf course in the area. Bring your "A" game if you want to score well on this legendary golf course. Even if you do not have your "A" game, it is still a beautiful, fun course. Learn more about Plum Creek Golf Club here.
The Ridge at Castle Pines Golf Course
Just north of The Meadows is The Ridge at Castle Pines golf course. It's one of the premier golf experiences in Colorado. Whether you're doing a group outing, charity tournament or a quiet round with friends, you'll soak in the one-of-a-kind atmosphere nestled among the hills of Castle Pines. This Castle Rock golf course offers four sets of tee boxes so any level of golfer can navigate the challenging track. Learn more about The Ridge at Castle Pines here.
All of these Castle Rock golf courses emphasize the beauty of Castle Rock, CO. Just about every hole offers a picturesque view to soak in while playing. Whether you're an avid golfer, beginner or someone like myself who loves to play the game, but has a hard time finding the fairway, The Meadows is conveniently located to many Castle Rock golf courses in the South Metro Denver area. I have one round in for 2016; I can't wait to get out and play more. If you're a golfer in The Meadows, where's your favorite place to play? Let us know on The Meadows Facebook Page. Maybe I'll see you on the golf course — or at the 19th.