4 Landscaping Tips to Get Your Yard Summer Ready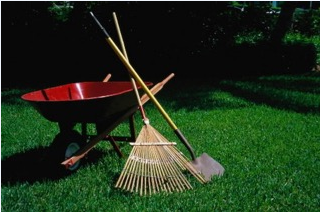 I don't know about you, but I always get excited around this time of year. It's spring, and I really enjoy working in my yard and take pride if it actually turns out well in the summer. Yes, I know, we live in Colorado, and there's always a chance for another snow storm in April and even May, but we just can't help to think about getting our yards ready for a beautiful summer. With that in mind, here are four landscaping tips that you can do now to help prepare your yard to look amazing this summer.
Landscaping Tip #1 – Start Planning
Every year your yard can get a makeover by adding a few things: a shrub, garden or flowers, to help improve your landscaping. Now's the time to check your yard and start planning where you want things to go. Decide where your yard gets the most sun and plan accordingly.
Landscaping Tip #2 – Spring Cleaning
If you have plant beds and gardens, you should use early spring to clean up leaves and dead debris to allow for new growth. If you have grass, it's good to rake any dead grass and leaves. This will help you avoid any fungus and allow your grass to grow when it wakes up for the summer. If you have trees, early spring is good time to do any pruning.
Landscaping Tip #3 – Wake Up Your Grass
After you rake your grass, it's time to help it wake up. Early spring is the time for aerating, fertilizing and seeding which will yield the best landscaping results for your yard in the summer. You'll probably see the signs of aerators or get the knocks on the door. Aerating helps loosen the dirt and will help new grass grow. A good fertilizer will give your grass the nutrients it needs. If you need to seed any areas of your yard, now's the time to do that as well.
Landscaping Tip # 4 – Have Fun Planting
After the planning, it's time to start planting. We have several nurseries in the area to visit for expert advice on what plants grow well in Castle Rock. Get creative; have fun finding a landscape that fits your lifestyle and the unique Colorado climate. Watch the weather and be ready to protect your plants, just in case we get another spring storm.
It's spring and time to get to work on your landscaping so that your yard looks great this summer. Share your spring landscaping tips on The Meadows Facebook page.