Master Planned Community Definition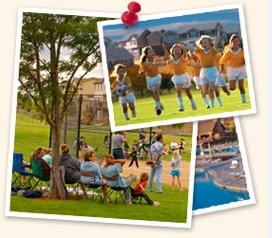 If you looking for new homes in Colorado, you most likely have come across several types of neighborhoods and communities. Chances are they all have many similarities like specific new home builders and HOAs. There are also likely many differences. Some can be standalone covenant neighborhoods and others may be master planned communities like The Meadows.  So what is a master planned community and what sets it apart from other housing developments?
What is a Master Planned Community? Master Planned Community Definition
According to Business Dictionary.com a master planned community is defined as a type of residential plan that includes an unusual number of recreational amenities such as parks, golf courses, lakes, bike paths, and jogging trails. The scope of the plan is very large scale and the number and variety of amenities clearly separates it from a normal plan for a housing subdivision.
What makes The Meadows Castle Rock CO Different?
For those of you who don't know, The Meadows in Castle Rock, Colorado clearly matches the definition of a master planned community as it offer numerous amenities like The Grange Community Center, Castle Rock golf courses, great schools in Douglas County, Castle Rock Parks and open space just to name a few. But what makes The Meadows Castle Rock CO different?
The Meadows Castle Rock CO is designed to be close-knit and 'community' is the difference maker because our amenities make it easier to host events such as Easter Eggstravaganza and Music in The Meadows.  The function of developing and maintaining our amenities is generally the responsibility of The Meadows HOAs in addition to Castle Rock Development Company (rather than local town and city municipalities).
Another aspect that makes The Meadows Castle Rock CO different is the fact that the developers kept security and privacy in mind. There are a limited amount of entrances into our community and it's neighborhoods. That's why if you're driving through one of the neighborhoods and you get a longer stare, it's not because we're not friendly; we just don't recognize your car.
The Meadows Castle Rock CO also includes space for non-residential elements such as churches, retailers and medical services.  In The Meadows we have Castle Rock's only hospital facility, diverse medical practices, a variety of churches and places of worship, several eateries and salons, a bank, gas station and other retailers.  The convenience and proximity paired with proper planning allows both commercial and residential aspects to exist within one community.
Every neighborhood or community is going to be different, and when you're looking for a new home you have a good sense of what things are important to you.  A master planned community like the Meadows in Castle Rock, CO differs from other neighborhoods and may provide everything you are looking for when you think beyond just the investment in your new home. If your are interested in The Meadows then you can start your search for Douglas County homes and homes in Castle Rock, Colorado now!