A Party for The Dogs: The Grand Reopening of Wiggly Field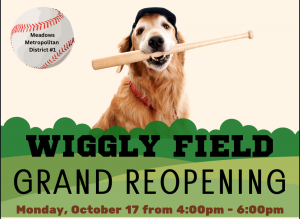 If you're walking on one of the trails or the streets of The Meadows, it won't take long before you find someone walking or running with their beloved pups. With all the parks and trails throughout the neighborhood, it's no surprise that we have a park just for the dogs. Wiggly Dog Park has been a staple in the community for years. Now it's gone under a remodel with some new toys for your dog to enjoy. Don't miss the grand reopening of the new and improved Wiggly Dog Park on Monday, October 17, from 4 – 6 pm. 
Play. Bark. Drink. Eat. 
As one of the most popular parks for furry friends, it's only fitting that the community reopens with a big party for all. Wind down your Monday with a few hours of fun at the dog park. Your pup can enjoy mingling with other dogs on the new equipment donated by Metropolitan District #1 while you enjoy music from a DJ with the perfect playlist. Grab a bite from local food trucks, K&D Kitchen, Kona Ice, and Ballpark Peanuts. 
Dress Your Dog for Halloween 
With Halloween just around the corner, it's only fitting that this party includes a special costume contest for your dog. So dress your dog in its favorite Halloween costume. The best costume will win an exciting prize from Pet Smart. 
Wiggly Dog Park is a staple in the community for neighbors to connect and dogs to run. Celebrate the new equipment at The Grand Reopening Celebration on Monday, October 17, from 4 – 6 pm.