Castle Rock No Knock List
Divert Solicitors this Spring. Get on the No Knock List
Spring is almost here! Yes, we're all excited for the nice weather and being able to work in our yards and explore the outdoors, but it also means you might start hearing random knocks on your door at the most inconvenient time. That's right, spring is solicitor season, and they'll come a-knockin'! Whether it's for siding, roofs, solar, or anything else, don't be surprised if you are getting more knocks this time of year. There is one way to divert the "knockers"; it's by getting yourself on the Castle Rock No Knock List.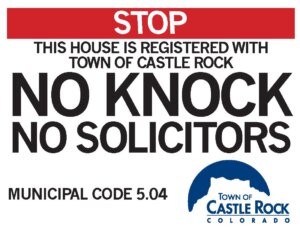 Understanding The Code
If you haven't heard of the No Knock List, it's a municipal code 5.04, which allows you to register your home address with the town, and they'll send you a sticker for you to put by your door that acts as a stop sign for solicitors.
If a solicitor attempts to contact you when you're on the list, you can call the Castle Rock Police Department and report them.
Who are solicitors?
According to the Town of Castle Rock, a solicitor is:
"A solicitor is any person attempting to make contact with the purpose of selling goods or services at the point of contact, whether or not the goods or services are actually delivered at the time of sale."
Solicitors are required to:
Register with the Town
Have a valid business or contractors license
Pass a background check
Display a Town-issued ID badge
Comply with the No Knock regulations
You can read more about who is considered a solicitor and who is not, along with the other regulations on the town's website.
The last thing you want at the most inconvenient time is to deal with a salesperson. Get on the No Knock List and have a peaceful door this spring and summer.