Valentine's Day on a Budget With Family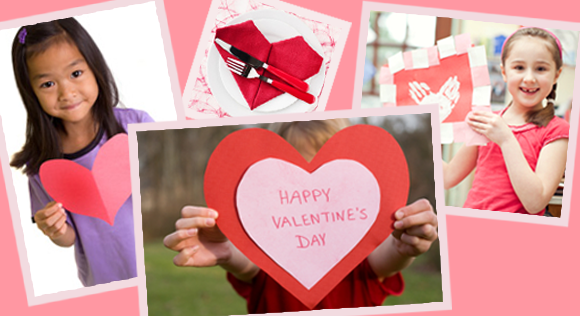 It's a weird weekend for Valentine's Day this year because it falls on President's weekend. Thanks to a teacher in-service day on Friday, my kids have a four-day weekend, and they could not be more excited. This year, my wife and I are making this Valentine's Day a family affair. If you are in the same boat and planning to enjoy Valentine's Day on a budget with family, here are a few ideas we're considering…
Valentines Day on a Budget Idea 1:
Family Dinner
As mentioned above, with three boys, finding a babysitter is tough, and it's expensive to go out to dinner; so we've made it a tradition to have a nice Valentine's Day family dinner at home. My youngest (6) calls it fancy because we use the "fancy" glasses; where my boys fill our crystal, port wine glasses with Capri-Sun and Kool Aid to match the grown up wine glasses. Valentine's is a great time to find deals on lobster, steak, and other generally pricey food items so we take advantage.
If you want to go with something not so fancy for your Valentine's Day family dinner you can keep it simple by making a heart-shaped pizza together. It's fun and simple, and who doesn't love pizza?
If you feel like stepping things up and not cooking, you could support one of the many local restaurants here in Castle Rock. Many are offering special Valentine's Day menus and family meals for takeout and curbside pickup. Order it ahead and plan for a great night.
Valentines Day on a Budget Idea 2:
Rink at The Rock
If you are in town, you can take the family to Rink at The Rock. It's the last weekend they'll be open for the season and an excellent opportunity for your kids to burn some energy. You and your spouse can enjoy a few romantic laps around the rink as well. Their last day of the season is on Monday, February 15. You can learn about scheduling and their COVID-19 schedule here.
Valentines Day on a Budget Idea 3:
Get Creative with Crafts
If you don't want to get outside; spend the day making Valentine's Day crafts. There is something so nostalgic about making a heart out of construction paper. Decorate the house and get in the Valentine spirit. Pinterest is full of great ideas.
Valentines Day on a Budget Idea 4:
Family Movie Night
After your "fancy" Valentine's Day family dinner, it's nice to cozy up on the couch and watch a movie with the family. A Charlie Brown Valentine or a Disney Movie like Lady and the Tramp are good Valentine's Day themed movies your kids will enjoy. After the movie, put the kids to bed and you and your valentine and can enjoy a more romantic movie.
What are some of your Valentine's Day on a budget ideas? Let us know on The Meadows Facebook page.  Enjoy the long weekend!