Castle Rock Trails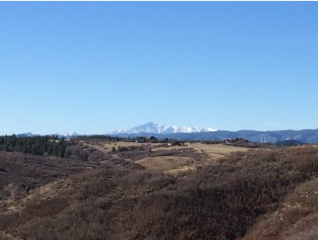 4 Castle Rock Trails Around The Meadows To Hike This Summer
I'm always looking for fun things to do with my kids outdoors. With a busy summer of family time and work on the books, I feel it's important to unplug and get out and enjoy a day hike here and there. A couple of our favorite Castle Rock trails are fairly easy and relatively close to The Meadows.
1. The Rock
You cannot mention exploring nearby Castle Rock trails without mentioning the town's namesake Castle Rock. It doesn't matter how many times we've done it (which is a lot) my kids never get tired of hiking The Rock. It's perfect for a quick hike on a busy day just to get out of the house for a little while.
2. Ridgeline Open Space
Another great quick escape from the day is to head over to Ridgeline Open Space here in The Meadows. With miles of hiking trails, my boys like to explore this space to see if they see any wildlife.  Whether on a bike or just hiking it has the feeling of being miles away from everything, right in our neighborhood. We'll even have more space with the new pedestrian bridge connecting Ridgeline to the many Castle Rock trails at Philip S. Miller Park.
3. Castlewood Canyon State Park
Castlewood Canyon State Park is just east of town and great for when you have a bit more time. Pack a lunch and let the kids go wild on the many trails. We love to spend an afternoon hiking along Cherry Creek and exploring the old dam ruins. You can also find a lot of different fun, educational activities happening throughout the summer for your kids.
4. Devils Head
A litter further out of The Meadows to the West is Devils Head National Recreation Trail. It's a bit more of a drive and with our afternoon storms, it's best to head up in the mornings. This uphill hike is relatively easy and worth it when you get to the top and see the Fire Tower Lookout to explore and a chance to meet the ranger.
Summers can get busy with activities; sometimes it's nice to switch things up, take a break and get outside to explore. There are many other Castle Rock trails within a short distance of The Meadows,  these are a few of my family's favorites when we need to get out and stretch our legs. If you live in The Meadows, what's your favorite outdoor spot? Let us know on The Meadows Facebook Page.