Come Meet Santa in The Meadows
The Meadows has you covered if you need to jumpstart winter break with your kids. If your kids haven't had a chance to tell the big man what they want for Christmas, Donuts with Santa is their opportunity to get any last-minute requests to meet Santa before he takes flight. Santa will be at The Grange on Saturday, December 18, starting at 8 am. 
Donuts with Santa
I don't think there's a better way to spend a Saturday morning than seeing kids' faces light up when they see Santa. Their excitement will be hardly containable when they get to mingle with Santa. Make sure that you bring your camera to take a family picture with Santa. This relaxed event will also feature some donuts to munch on and juice and coffee to sip on. Your kids will also be able to color while waiting to talk to Santa.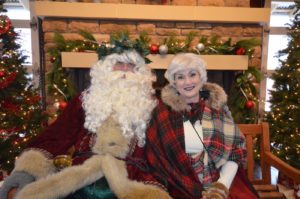 Choose Your Time With Santa 
Donuts with Santa is one of the most popular events of the season. But, to make sure that every kid gets a chance to meet Santa, you must register for a timeslot.
Timeslots to See Santa: 
Timeslot 1: 8:00 am-9:00 am
Timeslot 2: 9:30 am-10:30 am
Timeslot 3: 11:00 am-12:00 pm
Timeslot 4: 12:30 pm-1:30 pm
This event is exclusively for Meadows residents and their guests only. Registration is $7/person. Children two and older must register. You have to hurry. Slots are filling up fast! Register by December 15 to ensure your kids can enjoy this unique opportunity to meet Santa. Call The Grange at 303-814-2358 to register for a time. Learn more about Donuts with Santa here.