Doggie Dive 2022 at The Grange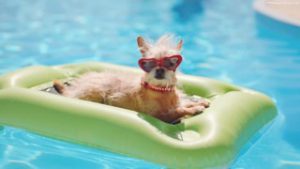 Not that any of us want summer to be actually over, but when it does come to that time of year and we must say goodbye to pool season The Grange wants to give your dog a chance to splash around. Bring your pup on Saturday, September 10th to the annual Doggie Dive at The Grange Pool.
The Doggie Dive is the annual free tradition for residents of The Meadows (with a season pool pass). It's an afternoon where you keep your swimsuits at home and let your pup have some fun in the water (there will be no humans allowed in the pool during the event). Let your dogs get their tails wet and explore The Grange pool with some splashing around. 
For safety reasons, it is best not to bring very small children to the event. There will be many dogs, including some large dogs, running around the pool facility and it is hard to prevent accidental collisions.
Have a smaller pup? Have peace of mind and bring your smaller dog for small pup happy hour from 9:30 am – 10:00 am before the big event. 
Small Dog Hours: 9:30 am – 10:00 am 
All Dog Sizes: 10:00 am – 2:00 pm
Don't worry! Before the dogs take their dip, you still have plenty of time to enjoy The Grange Pool. Soak up the sun and let your kids play.
Mark your calendar for The Doggie Dive, Saturday, September 10th at The Grange Pool from 9:30 – 2:00 pm. The event is open to all Meadows residents. Just bring your key fob to this free event.  Learn more about The 2022 Doggie Dive here.
Special thanks to the Doggie Dive Sponsors: