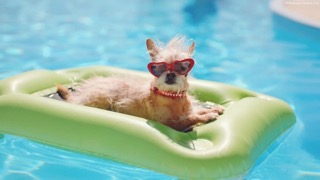 It comes the time of year again where we say goodbye to summer and hello to the cool breezes and snow-capped peaks of fall. With that also comes the closing of The Grange Pool and Taft House Pool in The Meadows. But before the pools shut down for the year, The Taft House wants to give your dog a chance to splash around. Bring your pup on Saturday, September 10th to the Doggie Dive at The Taft House Pool.
The Doggie Dive is free, but keep your swimsuits at home as this party is for the pups only. Let your dogs get their tails wet and explore the new Taft House pool with some splashing around.
Before the dogs take their dip, you still have a chance to enjoy The Taft House Pool. It is still open through Monday Sept 4th. Soak up the sun and let your kids play. They can explore the fun kiddie slides, the bubble pool or the exciting climbing wall. My boys went last weekend and absolutely had a blast.
The Doggie Dive will be Saturday, September 9th at The Taft House Pool from 10 am – 2 pm. Bring your key fob to this free event. For more information click here