Douglas County Chemical Roundup
Now that Labor Day weekend has past, we are officially getting thrown into fall. I'm starting to prep the house for winter; that includes cleaning (it's not just for spring any more). I've found that I have a lot of things taking up space in my basement and garage that I need to dispose of but can't just throw in the trash. If you are in the same boat, old paints, gas or any other chemicals can be dropped off at the annual Douglas County Chemical Roundup this Saturday (Sept 12) from 9am to 3pm.
What's this Roundup?
We've all had the buckets of paint or perhaps the old gas can half-filled with bad gas you can't put in your trimmer, right? The annual Chemical Roundup is the perfect opportunity to get safely rid of any of these chemicals.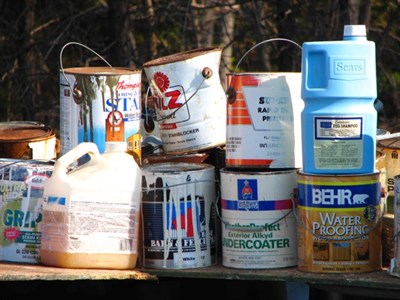 When and Where?
This Saturday from 9am to 3pm bring your unwanted chemicals to the Castle Rock Utilities Building at 175 Kellogg Court.
Why?
Unwanted chemicals are hazardous to the air, landfills and water supply if not disposed of properly. The Chemical Roundup ensures that these items are appropriately taken care of to help protect the environment, neighborhood trash handlers and in some cases you and your family.
How does it Work?
It's easy! Douglas County residents just load up your unwanted chemicals and bring them to the Castle Rock Utilities Building. This event is for Douglas County residents only, and you must show proof of residency; which means bring a driver's license, water bill, utility bill or phone bill. Since chemical disposal does cost money, organizers are asking for a small donation of $25 when you arrive. Simply drive through the parking lot and volunteers will unload your car for you. It's that easy.
For a complete list of accepted and unaccepted chemicals and more information, visit the town website.
Get a jump on your winter clean up this Saturday during the Douglas County Chemical Roundup.