How do you get your kids ready to go back to School?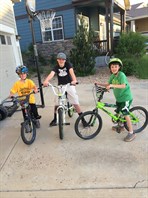 I know that it's only the middle of July, but in Douglas County, the middle of July means school starts in just a few short weeks. The way my summer has gone (way too fast), it'll be here before we know it.
Seriously. Where did summer go?
Even though my kids are a bit older (high school and middle school), they still need to be on a schedule. After all, if my older one isn't working or hanging with friends and my youngest son isn't golfing or swimming, their heads are in Playstation world. 
I need to break it to them that in a couple of weeks the days of sleeping in, staying up late and well, functioning on their own (snail's) pace in the mornings are over. Talk about a wake-up call. 
I'm fortunate to work from home so summers are a blast around here. I'm going to miss my boys — even though my work productivity level will definitely go up. These next few weeks I'm wondering how I get the boys back into the groove. Is it a rip the Band-Aid off kind of ordeal? Or do you ease them into the routine? Do I cram in everything that I didn't get accomplished, like Water World or morning fishing and perhaps one more hike and a round of golf?
How does this go?
My wife and I devised a game plan (she is much better in this situation than I) and we've elected to ease the boys back into the school routine.
Our Back to School Game Plan:
Bedtime: We'll actually enforce a bedtime so they get used to it. (Now, it's been "10 more minutes" which is really an hour.)
Showers: They'll actually take them rather than rely on the pool for taking off "the top layer".
Reading: We'll start settling them down for the day by making sure they unplug from their phones and they read nightly.
Mornings: We'll at least make them get up at a decent hour.
Homework: You might – scratch that – you will hear groans and moans about this one, but I think it's good to jumpstart their brains if they haven't been doing much so far. With so many apps and online games, it's easier than ever. Rather than a zombie game, they can play an actual learning game.
Back-to-school shopping: We're going to make this fun!  In our attempt to get the boys excited about the new school year, we'll get them backpacks and of course some new clothes. (They're boys- they grow like weeds.) 
That's at least our game plan; we'll see what the boys say. After a brief Google search on the topic, I found that we're not the only ones with this approach. Here's a link to a WebMD article: http://bit.ly/1jXuQ9t
And when I think about it more, it's not just for the kids; it's going to get me in shape for the season as well. After all, even after school starts the kids aren't on auto-pilot they still need subtle reminders (bullhorns work) to wake up and get going – one is a tween and the other is a teenager. 
Whether you decide to go with the Band-Aid rip or ease your kids back into the groove, it's just a few weeks away.
It's been a summer to remember and I can't wait to see how the boys grow throughout the coming school year.
I hope the best for you and your kids this school year.