Join The ShamROCK Stampede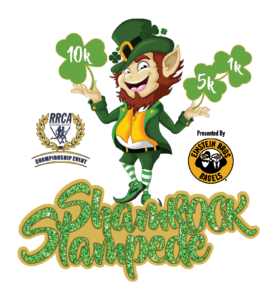 Everyone's favorite Irish holiday is in just a few weeks, and with St. Paddy's Day happening on Friday, March 17 this year, you can expect plenty of shenanigans throughout The Meadows and Castle Rock. If you want a healthy way to extend the celebration, make it a weekend with the 5th Annual ShamROCK Stampede on Saturday, September 18, at The Douglas County Fairgrounds. 
A Healthy St. Paddy's Party 
The ShamRock Stampede is a family fun walk/run 1k, 5k, and 10k event and festival. Bring the whole family to celebrate for a great cause. Want to jumpstart your spring a little healthier? Start the day with the Indoor & Warm Health Expo, where you can meet vendors that will help you on your journey. Then you can choose to run or walk in either the 5k or the 10k. Your kids can get in on the action with a free 1k event. All proceeds benefit the Unversity of Colorado Anschutz Medical Center and Live Free Association to help raise funds to support our veterans, first responders, and others in conquering PTSD and mental illness. Register for your race online here. 
Celebrate With The Irish Sham Jam
Reward yourself after your morning workout with some good ole Irish fun. First, enjoy a free beer from 105 West Brewing and free bagels from Einstein Bagels. Then dance the day away with live Irish music from Potcheen, Celtic Legacy, Nerea The Fiddler, and The Pikes Peak Highlanders. 
Run to Change Lives 
The ShamRock Stampede is another excellent event organized by the Run to Change Lives organization. You've most likely heard about their events if you haven't heard of them. Run to Change Lives started here in Castle Rock in 2015 with the annual Castle Rock Turkey Rock Trot. Their mission is to bring athletes of all abilities together to realize the limitless potential of Changing Lives Together. You can learn more and join this fantastic community here. 
Whether you're a regular runner, just getting started, or want to enjoy a fun walk with your family on the East Plum Creek trail, The 5th Annual ShamROCK Stampede is a guaranteed great way to spend your St. Paddy's Day Weekend.