Looking for Summer Fun for Your Kids? Check Out Chess Wizards
As summer quickly approaches, all of us parents are scrambling to find ways to keep our kids busy and unplugged some of the time. If you're looking for something that will keep your kid's brain active this summer, Chess Wizards Camp at the Taft House offers an incredible opportunity to introduce your child to the world and game of chess.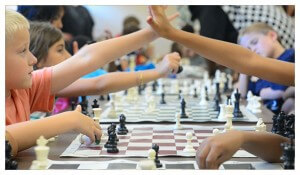 The Benefits of Playing Chess
Chess has many benefits for your child's brain. Playing chess enhances cognitive development in kids. It also improves mathematical skills and verbal skills that all lead to better academic performance, which is always a positive! While learning and playing chess, your child will also strengthen their ability to focus, visualize goals and use abstract thinking to solve problems.

Chess Wizards Details 
While at chess camp, your kids will learn how to play chess through interactive lessons from chess professionals. They'll also play in mini-tournaments and learn about alternative games of chess. Camp will run from June 14 – 18 from 9 am to 12 pm at the Taft House. Get your kids registered by Monday, June 7. The camp is open to kids in grades K-8 and costs $160 per child. 
As you're thinking about your summer camp options, consider something different. Keep your child unplugged and their brain active while learning the fun game of chess this summer. Register for Chess Wizards Camp at the Taft House by calling 303-814-2358. Click here to learn more about this fun opportunity.