Meadows Living Online Magazine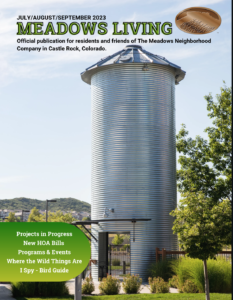 Are You in The Neighborhood Know? 
How do you keep up with neighborhood news? Facebook, Instagram, or this blog? There's another source with plenty of details about everything happening in the community: Meadows Living Online Magazine. Here's a quick peek at what you can find inside the latest edition of Meadows Living.
HOA Information
Inside the magazine, you'll read important information about the HOA, including news and fee information. You'll also find board member and District Delegate contact information and upcoming meeting dates. You may need approval for your summer or fall home improvement project; Meadows Living has the answers and architectural review meeting dates.  
Community News That You Can Use
Meadows Living has all the information about trash pick-up, snow removal, and pool hours. You'll even see special tips about getting your yard ready for the various seasons in Castle Rock.
Activities and Events Updates
One of the best features of Meadows Living is the updates about happenings and classes at The Grange and Taft House. The neighborhood offers plenty of fun and unique classes for adults and kids. Plus, if you've lived in the community for a while, you're familiar with events like Pumpkinfest, Music in The Meadows, Holiday in The Meadows, and Eggstravaganza. These are flagship events in the community and part of what makes The Meadows unique. You can mark your calendars after reading Meadows Living.
It's always nice to stay updated on what's happening in the neighborhood. Meadows Living does a great job giving you all the information you need. Look for it here.