PumpkinFest 2020 at The Grange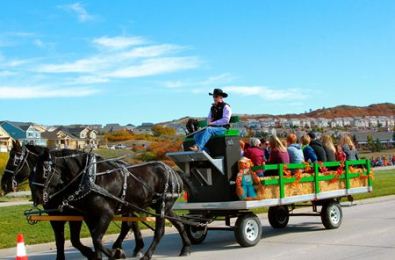 A Celebration of Fall
This week we've officially jumped into fall. As the leaves change and we all sip our pumpkin spice lattes and enjoy our pumpkin beers, we all look forward to the one event that officially kicks off fall here in The Meadows. Pumpkinfest is a fall classic here. Neighbors enjoy coming together to celebrate the season while the kids show off their costumes. This year Pumpkinfest is still on, but things will be just a bit different. You know, because it's 2020 and COVID. So, gather up the family, hop in the car for a Pumpkinfest Trunk or Treat Drive-Boo! This year's special event will happen on Saturday, October 17, from 1 – 4 pm.
Socially Distanced PumpkinFest
Just because you're in your car doesn't mean you can't get in the spirit. Dress up the whole family in their Halloween costumes and drive to The Grange for the drive-thru and boo trunk or treat celebration. Everyone will stay in their car and drive through various stations so your kids can grab their treats.
Get a Pumpkin
One of the most popular features of Pumpkinfest is the pumpkin patch. Don't Worry! Every car will get one free pumpkin at the event. You can grab additional pumpkins for $5/each (cash only).
By now, we're all used to adapting to change this year. I'm excited to think that we can still carry on with some of our favorite events despite this pandemic. Get out and celebrate fall this year at the Pumpkinfest Trunk or Treat Drive-Boo! Load up your car on Saturday, October 17, from 1- 4 and head to The Grange. Click here to learn more about the details of this fun event.