Meadows Top 10 Favorites of 2014
By now, you've seen plenty of year-end reviews and rewinds. Top 10 commercials, songs, movies, and more. So, I was thinking, since this is my last post for 2014 and The Meadows has so many great events, why not create a Top 10 Meadows moments for 2014?
Here it is. My Meadows Top 10 for 2014:
10.) Meadows Night Lights Drive —This was a fantastic night. It was actually the first time I've been able to participate. It catapulted me into the holiday spirit. The creativity and knack for exterior illumination was quite impressive. Next year, I've gotta step up my game!
9.) PumpkinFest —If you live in The Meadows this is a standard must-go-to event. It's always loads of fun for the kids. Hay rides, cider, live music and pumpkins. Just a wonderful family tradition.
8.) Eggstravaganza —Another great annual event for the whole family to enjoy. This also serves as a "coming out of winter hibernation"for friends and neighbors. We all gather at Butterfield for loads of egg hunting and Easter fun.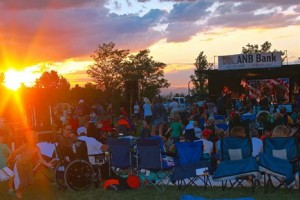 7.) Music in The Meadows –I love music. And this gives me a live music fix for the summer. I believe that this is by far one of the most popular events throughout the summer. This year, Mother Nature made it hard, but the one show I did attend was awesome!
6.) Christmas in The Meadows —Christmas in The Meadows was a fun way to get everyone in the Christmas spirit. Another annual tradition held at The Grange. The kids got to see Santa and Mrs. Claus, enjoy hot cocoa and even see some reindeer.
5.) Movie in The Park –it was a summer for weather. After getting postponed, the Movie in The Park went off without a hitch. It was a big turnout in Paintbrush Park.
4.) Summer Pool —Now, this isn't an event exactly but I can't say enough about how much fun we had at the pools this year. So, I'm clumping the many mornings of swim lessons and the fun afternoons at the pool as a highlight. My sons met with friends and also became excellent swimmers.
3.) Wacky Wednesdays —My kids had a lot of fun at the Wacky Wednesday events they attended. It was a good change of pace for them and an opportunity to meet new friends. It also offered me a nice break as well. I had a couple of hours to get some work done.
2.) Bourbon and Beer Fest —This was the first year for the Bourbon and Brewfest. I can only tell you that I hope they bring this back. Live music, friends and booze. I can see it as a long standing summer tradition. It was so fun. Great Colorado beers and plenty of incredible Bourbons to sample.
1.)   WineFest –WineFest is another summer must do on our list. It's probably one of the largest events at The Grange and easily one of the most popular. My wife and I made sure we sampled it all.
Now, there are many more events that happen throughout the year here in The Meadows. This is just my personal Top 10. What's your Top 10? Please tell us on The Meadows Facebook page.