Home Within a Home Series By Lennar Homes Now At The Meadows
By now, you've seen the flurry of construction in and around The Meadows master planned community. It's no doubt our community is growing and we'll have plenty of new neighbors in the coming years. Lennar Homes' new home within a home series offer something very different for new Colorado home buyers.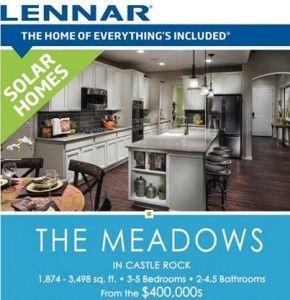 These NextGen home within a home houses come with an attached suite to accommodate multi-generational living. It is a concept that's been making a comeback. The Lennar homes feature a main home living area, 4 beds, kitchen, living area, and 3 car garage just like most other homes in the area. Attached is another living space which includes a bedroom, a smaller living area, bathroom, kitchenette, and private entrance. The name fits it perfectly. It's literally a "home within a home."
It's only natural for us kids to worry a bit about our parents. I do it, my wife does it, after so many years of taking care of us, it makes sense for us to help them. We could use the help as well, I mean how cool would it be to have a live-in babysitter, right?  The home within a home concept by Lennar Homes allows for the parent to share a piece of the bills and mortgage without the larger responsibility of a separate home.
In addition to helping families get closer (literally) the new Lennar home within a home series comes with many top of the line efficiencies as well.  These Lennar homes in Castle Rock, CO come with features like home automation, 2 x 6 exterior walls, radiant barrier roof sheathing, and Energy Star appliances.
If you are looking for news homes in Castle Rock, CO and are considering or currently living in a multi-generational home, then the new Lennar NextGen home within a home community right here in The Meadows may be just what you are looking for.