Philip S. Miller Park: Find Your Adventure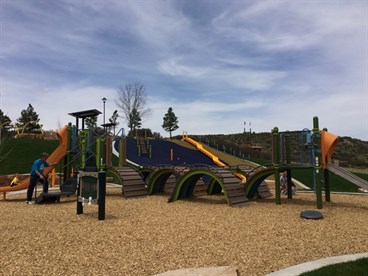 A Safe Place for Fun
Throughout the last few months, we've all tried to find an escape from our homes and break from the news about the pandemic. In Castle Rock and The Meadows, we have our own little escape. It comes in the way of over 320 acres at Philip S. Miller Park. There's plenty of space for social distancing and offers activities for everyone.
Challenge Hill
If you're hungry for a workout, you must take the trip up the 200 steps at the Challenge Hill. Your legs will be burning, but the views from the top are worth the sweat. The hill is a favorite workout spot among fitness enthusiasts.
Fitground Outdoor Fitness Park
If the Challenge Hill doesn't get your blood pumping, you can go across the street to the new Fitground Outdoor Fitness Park. It's perfect for those looking for a full-body workout. The fitness park has equipment for wall climbs, over-under bars, cargo net climbs, battle ropes, and more.
Biking/Hiking
Bikers and hikers can explore the 7.4-mile network of single-track native surface trails. The Philip S. Miller Park trails are ideal for all levels.
Days of Adventure
If you want to take your kids on an adventure, the park features a 2.5-acre Adventure Playground complete with 40-foot slide.
Soar Through The Park
Amp up your day with Castle Rock Zip Line Tours. Soar over the park on ten different zip lines. If that's not enough, check out their Epic Adventure Tower that includes a 40ft climbing wall, zip and jump from a 40-foot platform and freefall from their 70-foot platform. The adventure doesn't stop there, check out the Epic Sky Trek. This three level challenge course features 110+ challenges that take you up and through the course. If you've ever thought about trying the tricks you see on American Ninja Warrior – this is your chance. Experience the adventure for yourself.
The Philip S. Miller Park Amphitheater
The new amphitheater in Philip S. Miller Park is Castle Rock's premier venue for concerts, think of it as Castle Rock's own mini Red Rocks. Enjoy the Summer Concert Series and free Tunes for Trails/Perks for Parks Concert Series.
The Millhouse
The Millhouse in Philip S. Miller Park is a 2300 square foot indoor facility with a large great room, kitchenette and magnificent views of the rest of the park and surrounding pond and waterfall. It has a large patio with fire pit. It's the perfect place for a personal or company party available for rent for your next event.
The Plaza
If you want to gather with friends for a barbecue, The Plaza in Philip S. Miller Park offers several pavilions that are available for rent. There is a large covered pavilion and three uncovered that are perfect for a day in the park. Bring in your gas grill to cook up your barbecue feast. The pavilions are all next to a large grassy area which is great for yard games. There's ample seating and plenty of tables for all. You can even sit around one of two fire pits. If you're looking for a way to cool off during your hot summer barbecue, a splash pad offers a fun way to stay cool. Learn more about pavilion rentals here.
As we all look for fun, safe things to do during this crazy year, in The Meadows, we don't have to look far. Think about taking a day or two and spending it right here in your own backyard. Experience the award-winning Philip S. Miller Park for yourself. Learn more here.