Procrastinating this Halloween? Try these Last Minute Ideas
Pumpkinfest was just over a week ago, which should have jumpstarted us all into full blown Halloween mode — if you weren't already. For me, I am halfway there, I was on vacation and well, I've made procrastinating a hobby so I'm a little behind. This past weekend was crunch time; we carved pumpkins, finished our decorations and finalized costumes. I did a little research on some fun DIY stuff that I'd thought I'd share, maybe they'll help you get in the Halloween spirit.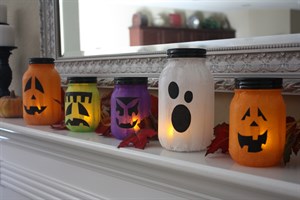 Pumpkins
You have to have pumpkins. Yes, carving them is tradition – my boys love getting in there and pulling out the guts. However, if you don't like the guts or just don't have time to carve a jack-o-lantern you have plenty of other options. Why not try painting or bedazzling your pumpkins, it's a very stylish and less messy option. Check out these creative no-carve pumpkin ideas.
House Decorations
If you haven't had the opportunity to decorate, and you don't want to spend a bunch at the stores, look at these easy last minute ideas to decorate your house. It got a little of everything, from floating eye balls to ghastly ghosts, check them out.
Last Minute Costumes
Here's the big one, especially if Halloween has crept up on you. The big question; do you dress up or not? The kids want you too, but you don't want to invest in a costume. No worries, you are not alone! There are plenty of creative ideas that you can come up with for minimal cost. You can get as adventurous, creative or as simple as you want with these ideas.
As I drive around the neighborhood, I must say, kudos to you non-procrastinators, the decorations are looking good this year! If you are like me and are jumping into Halloween decorating mode a little late, I hope these ideas have provided a little inspiration. Have a safe and happy Halloween!