Spring Events at The Meadows
Meet your Neighbors during Spring Events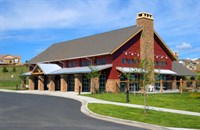 Spring is here and time for everyone to come out of hibernation. Come on, you know it's true, you've barely seen your neighbors since at least November. Luckily The Meadows is full of events for you to get reacquainted with your neighbors and meet new ones. At the center of it all is The Grange — the cultural and event center of the neighborhood. They've got many events for all ages in April.
Events for the Kids
If you have kids that aren't in school yet, or only attending part time, bring your child to "Playgroup at The Grange." It's playtime for children from 0-5.  It's a great way for you and your kids to meet new friends. The Playgroup meets every Thursday at 10:30.
Fun for Grown-ups
The Grange has events all month for adults as well. If you play cards and want to join The Bridge Club, go for it. Another popular event is Pinots and Pallets. It's where wine lovers and artists come together for a unique art class. You don't have to be an artist, that's what the wine is for.  The Optimist Club will help teach leadership and team work. And if you want to learn to play guitar, April is your chance to learn to play in a day. Get more information on these events.
EGGstravaganza
The biggest event of April comes on Saturday the 12th.  It's EGGstravaganza — The annual Easter celebration at Butterfield Park.  It's a great family event; enjoy Easter Egg Hunts, a Jell-O eating contest, an inflatable slide and, of course, great food from local restaurants. The Easter bunny will even make an appearance. It's a great way to kick-off spring and get together with friends.
As the temperature warms and you're coming out of your winter funk, check out The Grange and the many events The Meadows has to offer this April. Click here for more information or to register for any event.