The Meadows 101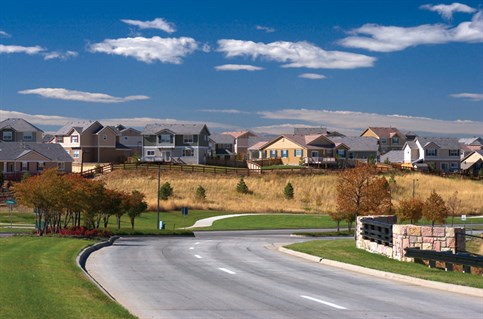 I grew up in a very small New England town and then transplanted to Gunnison, Colorado during college – another small town.  I guess the "small town" vibe is just in my blood. My wife grew up in Littleton, a much larger town, but we met and started our lives together in Gunnison. In the years after graduating we called Colorado Springs home.  Each time we drove through Castle Rock, we always said we want to live "there". It's a small town and it's close (but not too close) to family. Fast forward 10 years, we started searching the area for a home to grow our family. We had heard about this place, "The Meadows," although didn't think anything about it, because we didn't think we could afford to live in a distinguished, sophisticated community like "The Meadows." Or could we?
A First Impression
After a little research and a Sunday drive through the neighborhood we quickly realized "The Meadows" was full of families just like us. Kids and pets playing, tons of parks and this place called The Grange with a pool – it was awesome. After a spin around Meadows Boulevard and lunch nearby, it was decided our new home would be The Meadows. As soon as you drive underneath the tracks you're in a different world. A community all to itself yet close to everything. We quickly wanted to learn every detail possible.
Great Schools?
Only one of the best school districts in the state! It had 3 elementary schools (now 4) and more to come. A Middle School and High School right in the neighborhood. With three growing boys, this was our No 1 priority.
Parks & Rec?
The Meadows has some of the nicest parks around. One in just about every little neighborhood as well as three major parks (and another one under development): Bison, Butterfield and Paintbrush.  In addition, Castle Rock has an unbelievable rec center, complete with awesome water slides, lap pools, separate kids pools, full gym and more.  It's 10 minutes away just like everything else in Castle Rock.
Amenities?
You bet. The Grange is at the center of it all.  With a neighborhood pool, and tons of activities for families and adults There's also a pool at Butterfield Park, tons of walking paths, an off-leash dog part…the list goes on!
Events?
Let's see: Only a free summer concert series, a fall festival, Eggstravaganza in the spring, Art Fest, and oh yes, a Winefest in the summer to name a few.
Emergency Care?
The Meadows is home to Castle Rock's brand new hospital. I've had to make an emergency room visit or two (remember I have three boys) and it is a wonderful facility just 5 minutes from my house.
New homes?
The Meadows is growing and new homes are being built all the time. Prices vary and there's a home to meet every need.
Space?
This was a key selling point. Although it's growing fast, there's still space to breathe.  With dedicated open spaces like Native Legend and Ridgeline that offer space and a true feel for the "Colorado Lifestyle" that we all love. Unique trail systems that run through the community offer an opportunity for biking, hiking and jogging.
Close to it all?
It seems like a world away, but The Meadows is just 12 miles from the Denver Tech Center and 40 minutes from DIA. The Mountains are right in our backyard.
As a small town guy who loves the mountains, I can honestly say that The Meadows had everything I was looking for – so I stayed. Friendly neighbors a growing community and a wonderful small town atmosphere. My family is happy and proud to say that The Meadows is home.