Trying to Navigate a Hot Real Estate Market? Be Ready to Act Fast
As a former marketer for a major real estate franchise, I know April is  the time of year when real estate agents shine. It's their traditional selling season and this year it's turning out to be a particular good one – especially in the Denver area.  As I drive around The Meadows it seems as if there's a new For Sale sign every day. It also seems that as soon as they go up, they're coming down. It's not because people are trying to get out of The Meadows, it's because there's not a lot of inventory and home values are on the rise. A lot of those moving here in The Meadows are actually "upsizing" their homes and moving within the community. It's almost the perfect situation for a seller and tough for a buyer.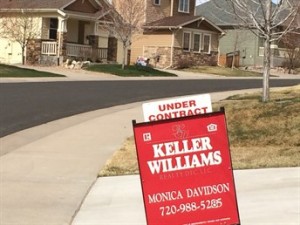 Buyers be Ready
If you're in the market for a new home, you need to know what you want, and you need to be ready to buy.  In a hot market there isn't time to "hem and haw" about if you like it or not. If you even think you like the house, make your move, because chances are there is someone waiting to make an offer. If you're the ultimate bargain hunter and think you're going to "get a deal", I wish you luck because the odds of it happening are slim. There are a lot of buyers with only a few houses for sale. Often homes are going for asking price or more. You can almost expect a bidding war for the house you want.
A Seller's Dream
If you're looking to sell, the timing is great. There aren't a lot of homes; however, there are a ton of buyers. The best thing to do is hire a Realtor. Ask around and find someone that comes recommended and knows your neighborhood. Although there are many buyers, it doesn't mean you can slack off and not get your house in top shape. Make sure that it's decluttered, clean and is ready to wow your potential buyers. If you do, you might just have a bidding war on your hands. Or, at the least, you will be in a position to get top dollar for your home.
If you're thinking of buying or selling in this hot market, get ready, act fast and get the home you want. If you're unsure of where to look, start by checking out the variety of new homes here in The Meadows.