The Grange Pool 2018 Information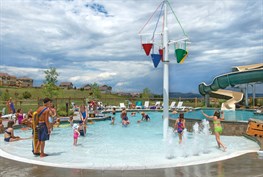 Technically summer doesn't begin for another month and Mother Nature has been reminding us of that recently. But with school in its final weeks you can feel it coming. There's one event that stands as the unofficial start to summer in The Meadows – the opening of The Grange Pool! This year, Saturday, May 26 is the magical day when summer begins in The Meadows (if Mother Nature is in a good mood). It's the day when families throughout the neighborhood put their busy lives on hold to take their first dip in the pool.
The Grange Pool Hours for 2018
The Grange Pool Hours are from Saturday, May 26th – Monday, Sept 3th from 10 A.M to 8 P.M.
The Grange Pool Bash
With your kids out of school, there's only one more step to take before summer is officially underway in The Meadows, and that's with The Grange Pool Bash 2018.
The Grang Pool Key Fobs and New Registration
Before you jump in make sure you register.  Once you register for the Grange Pool you'll recieve a key fob that you can scan before entering the pool.  Register for The Grange Pool here to get a key fob.
Swimming Lessons at The Grange Pool
Interested in Swim Lessons at The Grange Pool? The pool management company, Swim TLC has lessons available. Click here to obtain information on dates and pricing. Please note, The Grange does not organize or register for swim lessons.
The Grange Pool Lap Swim and Sunbathing Hours
The Grange Pool Lap Swimming/Sunbathing Hours for 2018 are June 2 – September 1 Monday, Wednesday, Friday and Saturday from 8 a.m.-10 a.m.
Lap swimming is defined as actively moving forward with some continuous effort. A lifeguard will be on duty to monitor the lap swimming. No other amenities, but lap pool will be available during these hours. Lap swimming is available in the lap pool during regular pool hours. Ask a lifeguard for assistance in getting a lane put up.
The Grange Pool FAQs
Have more questions about The Grange Pool? View our Grange Pool FAQs here and feel free to contact us if your questions aren't answered there.
Why My Family Loves the Grange Pool
For me, The Grange Pool offers an escape from the everyday hustle and bustle. It's a place to catch up with neighborhood friends and spend quality time with my kids.  My oldest (12) walks and rides his bike there to meet with friends, if I'm there at the same time; naturally he avoids me like the plague. I guess I'm just not as cool as I think I am, and he certainly won't impress the ladies with mom and dad lurking. My younger sons both enjoy the slide and the zero entry pool, they laugh every time the hanging cones fill with water and "surprisingly" dump on my head.  No matter the day or how full the parking lot seems, with 3 different pools at The Grange, a splash park and a giant water slide it never feels like it's crowded. You actually have space to swim and it's easy to find a spot to place your things. Plus with the incredible lifeguard staff and with constant "safety breaks" you always feel like you and your family are in good hands.
When it's time to leave The Grange Pool my kids always beg to stay. Of course we end up staying at least an hour after my wife or I give the initial time to go "warning."
Needless to say The Grange Pool is an amenity that is absolutely loved by my family and I can't wait for the unofficial start to summer on Saturday May, 26th.
I'll see you at the The Grange Pool this summer!