Transportation: Castle Rock to Denver and Beyond

Moving to The Meadows? Here's How to Get Around
One of the first things you probably think about when looking at a new community is the commute and proximity to work. When it comes to living in Colorado, you probably also want to know how far it is to the mountains for fun. Fortunately, The Meadows is centrally located, and with Castle Rock Parkway and Meadows Parkway, you can get to I-25 or Highway 85 in minutes. 
Commuting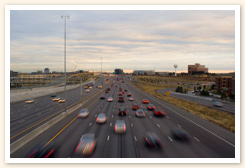 The Meadows is just a few miles from the South Denver metro area and the DTC. If you'd like to save a little gas, you can always check out the various transportation options in and around Castle Rock. If you have to commute north to the Denver Tech Center (DTC) or downtown Denver, you can pick up the RTD light rail at the Ridgegate Station Park and Ride. The light rail can save you time and connect you just about anywhere in the Denver Metro area. If you're heading south, Colorado Springs is roughly 40 miles from The Meadows. 
Uber and Lyft
Whether it's a commute to the office, the airport, or just up to the "city" for a night out, Castle Rock also has plenty of Uber and Lyft drivers to take you where ever you need to go. My wife and I often take advantage of this option when heading north for a night out on the town.
Getting to The Mountains 
Ahhh the Mountains! If you live in Colorado, then this is probably your escape. Whether you're hitting the slopes in the winter or enjoying the cool breezes and fresh mountain air in the summers, you're most likely making a few trips up the hill. From The Meadows, you can access I-70 and Highway 285 to the North, and if you travel south through Colorado Springs, you can hit up Highway 24. A word of advice, it's super easy to get to I-70 from here, but pack your patience once you get there. Residents of The Meadows love escaping to the mountains, but so does everyone else on the front range, and traffic can get sticky on the weekends. 
It easy to see why so many love The Meadows. It's close enough to everything, but just far enough away to be "away from it all." Explore The Meadows Castle Rock community now.