Get Your Home Ready For Fall: Unique Fall Decor Trends
Who doesn't love fall? Especially in Colorado. Yes. We're still in the middle of August, and temperatures are in the 90s. But, before you know it, we'll have cooler weather, and the smell of pumpkin spice will fill the air while we enjoy the seasonal change. This means it's time to cozy up your home with fall decor. To help, here are some unique fall decor trends for 2022.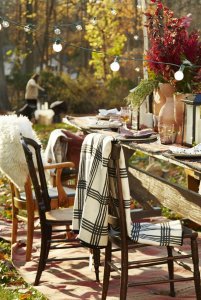 As Meadows residents, we all love our patio time. Cozy your outdoor sanctuary up a bit with a fall tablescape. Add some lanterns and terracotta planters with fall flowers. Add layers with an outdoor rug and plaid throw blankets for those cool evenings. 
Fall is the time for warmth. Add some warmth to your kitchen floor with a colorful kitchen rug.
Nothing says fall like a lovely rustic wreath. Use apples, cobs of corn, and autumn flowers to add a festive feel to your doors and windows. 
Combine fall foliage and vintage furniture for the perfect fall corner. 
One of the easiest things to do to add pop to your living room or family room is to change out your throw pillows. Fall calls for beautiful plaid pillows or pillows with dark fall colors. 
The kids can get involved with this art feature. The changing colors define fall. Collect leaves from the area or in the mountains. Then, spray mount them to cardstock paper and arrange them on your wall. 
As you think about your fall decorations and style, you can find these unique decor trends and more ideas here. Fall is beautiful in The Meadows and Castle Rock. Enjoy the many fall activities and festivals in the neighborhood and town.