Bonaventure Senior Living in Castle Rock, CO
Bonaventure Senior Living: From Retirement to Senior Housing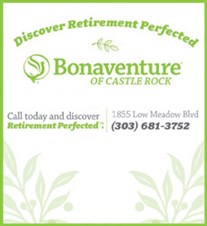 If you're like me, then you're at the age or are nearing the age when you think about taking care of your parents and what if's. For whatever reason, the conversation has come up a lot lately in my family. Why shouldn't it? I hate to think about that day because my mom is just now considering retirement and is not too old (I'd never say she is old). However, I cannot help but think what will happen if she needs assisted living in Castle Rock, CO and if she can't live by herself. Again, for me that's years down the road. She already says she does not want to burden us and wants to live her life. But it's comfortable knowing that senior housing in Castle Rock, CO is easy to find at Bonaventure Senior Living in Castle Rock, CO in The Meadows.
What do you picture when you think of senior housing? At Bonaventure Senior Living in Castle Rock, CO assistance is there if she needs it, knowing my mom, she won't want it and she'll still get the independence she desires. There's also plenty of space for visitors to come and hang out.
If I was worried about her being lonely, there are plenty of social activities for her participate in —if she wants. I would say Bonaventure Senior Living in Castle Rock, CO is less a facility and more of a senior housing community. With transportation to shops, events and activities she'll get out, just as she does now without the hassle of driving (which she does not like to do anyway).
Assistance When Needed
Heaven forbid she ever needs more care, but if she does, it is nice knowing that she would have top-notch care at Bonaventure. It's senior housing in Castle Rock, CO with a friendly trained staff, they will take care of her 24 hours a day if she needs it. If she ever has issues with memory loss, Alzheimers or dementia than the facility and staff are well trained and equipped for her safety.
As I think about the future, it gives me peace of mind knowing that there's a comfortable, friendly place for mom to live when she needs more care than I can provide. Learn more about the Bonaventure senior housing community in Castle Rock, CO now.