Can You Develop A Master Planned Community and Still be Sustainable?
There's no denying that The Meadows master planned community in Castle Rock, CO is growing. It seems there's a new community or commercial location popping up every day. I was curious – with all of this growth, does the idea of a sustainable community go out the window? At first glance you might think – yes – it's gone. However, after taking a closer look, it's easy to see that we still live in a community that thrives on being sustainable.
The Land
It's easy to see that the The Meadows master planned community is designed so that the growth will leave as little a footprint as possible on the natural landscape. I know, you're thinking really, there are a ton of houses and  tons of dirt being moved. How's that possible? However, if you walk through the communities, you can still see that much of the natural typography is still intact. Look at the hills and the open spaces, big or small. This is good for the land, as well and the homeowners. You're not boxed in on just a flat row of houses; there's character. The natural landscape also is maintained for effective water runoff.  Adding to the sustainability is over 1,000 acres of Castle Rock parks and open spaces, that we all love walking, running, and biking through.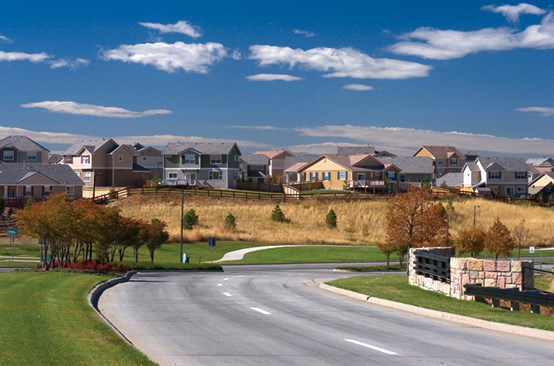 Sustainable Housing in Castle Rock, CO
I've had the opportunity to speak with several of the new Castle Rock home builders here in The Meadows the last few months. It is nice to know that these new homes are leaders in green homes in Colorado because of the new home builders green building methods and efficiency. Their homes for sale in Castle Rock, CO are rated among the top in energy efficiency. Many use materials such as tile roofs to help keep cooling costs low, energy efficient windows and appliances to help keep energy use down. Sustainable housing development not only helps new homeowners, but it will also help the environment for years to come.
With a master planned community that works and plenty of open space, in my novice, unprofessional opinion, I would say – yes- you can develop and still be sustainable. Just one look at our community and you will see why The Meadows is one of the best Denver neighborhoods to live in.