Concert for a Cause: Don't Miss The Tunes for Trails, Perks for Parks Concert Series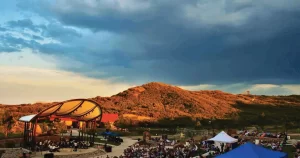 If there's anything I've learned about The Meadows and Castle Rock over the last ten years, it's that this town loves to have a good time – especially in the summer. There's always an event, festival, or concert happening in the community. So if you're looking for more great live music, a chance to party under the stars, and support a great cause, you have to check out The Tunes for Trails, Perks for Parks Concert Series at The Philip S. Miller Park Amphitheater. 
Great Music. Great Cause. 
The trail systems and parks are incredible throughout the town and community. However, it's costly to keep them as magnificent as they are. So to help raise funds for the many trails and parks, the town of Castle Rock has organized a fantastic music series throughout the summer to collect donations. Donations go to The Castle Rock Parks and Trails Foundation. This year, donations will help build The Possibilities Playground at Butterfield Park. The concerts are free and feature some of Denver's best musicians. Gather up the family and head to The amphitheater at Philip S. Miller Part on the third Thursday of each month all summer for fun, food, drinks, and music.
Summer Concert Lineup 
The fun begins on Thursday, June 16, and continues through September. Check out this year's lineup. 
Thursday, June 16 – Something Underground
Thursday, July 21 – The Junior Varsity Three (JV3) 
Thursday, August 18 – Spinphony 
Thursday, September 15 – Groovealicious
Great Fun For The Whole Family 
How great is listening to live music under the stars, and we get to do it right here in our mini Red Rocks. Gates open at 5:30 with dinner and drinks for sale. The kids can enjoy games and bounce houses, and you can hang with friends and meet neighbors. Learn more about The Tunes for Trails, Perks for Parks Concert Series here. It's a lot of fun for an incredible cause.