Stay Cool This Summer: Enjoy a Lake or River Near Castle Rock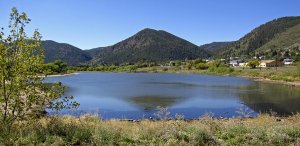 It's officially summer! It's hard to believe that it will get even hotter, but if you've lived in The Meadows for a while, you know that as summer goes on, it will only get worse. If you want to change things up from visiting The Grange pool, I wanted to share a few local lakes and reservoirs you could visit. 
Head North on Highway 85/Santa Fe to Chatfield Reservoir in Chatfield State Park. It's roughly 20-30 minutes up the road from The Meadows and one of the largest reservoirs in the metro area. Bring your kayak, paddleboard, or boat, or go for a swim at their swim beach. You can even spend the night in one of the four campgrounds.
You can go south and west to the beautiful little town of Palmer Lake to cool off. Take the incredible drive south on Highway 105 to the Palmer Lake recreation area. Nestled in the foothills, you can soak in the amazing scenery as you swim, relax on your paddleboard, or kayak on Palmer Lake. 
Another option to cool off is to enjoy some time floating on the South Platte River. You have several options for tubing the South Platte. You can take the short drive to Deckers (Northwest of Castle Rock) to spend the day or a few hours tubing short sections of the river. Or you can go north and float along the Santa Fe on this South Platte. Choose a tubing adventure and enjoy a post-float drink at Breckenridge Brewery. If you choose this adventure, they'll provide a tube and ride to the put and take-out locations. It's a fun, relaxing way to cool off. The flow of the South Platte varies throughout the summer, so pay attention to conditions.
I hope these ideas help you fight the heat. But, of course, if you want to stay close to home, you can enjoy the incredible pool at The Grange. So enjoy the summer and stay cool.